Harmar Helix Curved Stair Lift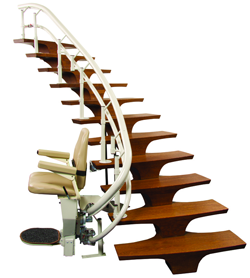 The Helix Curved Stair Lift offers a narrow profile that mounts closer to the wall, with tighter bends. The ride is ultra smooth--and whisper quiet! Manufactured in the United States, every Helix CSL500 is engineered and built to order. Each custom stairlift is unique to the home and stairway it is installed to. This custom design allows the Helix stairlift to have a smaller footprint, quicker install, and outstanding performance.
The build and delivery methods also allow installers to work more quickly and efficiently when they arrive at your home. The lift can be installed with minimal disruptions to you.
Perfect for a stairway with a 90-degree turn, 180-degree turn, or even a spiral staircase. The Helix can even be built to accomodate multi-story applications.
An ergonomically-designed seat features swivel seat and "flip-up"" arms to make entry and exit easier.
Custom color and fabric options are available to help make the Helix Curved Stair Lift a tasteful addition to any home.
Features
Narrower profile
Extemely quiet, smooth ride
True-Curve rail with advanced bending technology creates smoother turns
Supportive, ergonomic seating
Simple-connect rails and lighter chassis for easy installation
Specifications
Drive System: Rack & Pinion Gear
Maximum Weight Capacity: 350 lbs. (159 kg.)
Track (rail) Type: Steel, Powder Coated
Travel: 20' standard; 164' Maximum
Average Number of Return Trips per Charge: 10
Lift Mounts to Step or Wall: Steps
Minimum Folded Width: 14.37"
Speed: 20 ft. / min.
Electrical Requirements: 120V - 220V AC
Operation Power: 24V DC Battery
Safety Devices: Safety Edges; Overspeed Governor; Emergency Stop
Please visit the Harmar Website for more information on the Helix Curved Stair Lift.