Harmar Pinnacle Stair Lift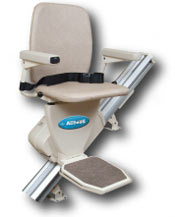 The Pinnacle Stair Lift is manufactured by Harmar Mobility.
The Pinnacle Stair Lift is the most compact stair lift available today and allows for the widest possible clearance on the staircase.. The lift is mounted to your stairs, folds to within 11 inches of the wall and its track is only 6.5 inches wide.
The Pinnacle Stair Lift has advantages over many other stair lifts including a wide, comfortable seat that swivels, safety sensors that prevent the lift from running if something is blocking your stairs and a wireless remote call/sends controls.
The Pinnacle Stair Lift has a 3-year warranty on its parts and a lifetime warranty on its gear rack and 1 year on its batteries.
The Pinnacle also includes a innovative helical drive system that makes it more energy efficient than many other stair lifts.
Features
Narrowest stair lift in the industry - only 10.5" wide when footrest and seat are folded
Lightest unit on the market - entire system weighs only 180 lbs installed (including 16' of track)
Swivel seat at upper landing, for easy and safe, entry and exit
Easy operating controls and indicator lights
Patented helical worm gear drive system for extremely smooth ride
Operable in a power outage - up to 40 trips!
Comfortable seat with height adjustment
Safety sensors will stop the lift if it meets an obstruction
No greases or lubricants; easy to vacuum and keep clean
3-Year warranty on components, 10-Year on gear rack, 1-Year on batteries
Easy, 1 person installation (Harmar recommends that all stair lifts are professionally installed)
Made in the USA
Specifications
Weight capacity: 350 lbs (160kg)
Electrical requirements: 115 VAC
Operation power: 24V DC Battery
Travel distance: 16 ft is standard; lengths available up to 75 ft
Speed: 17-21 ft/minute
Incline limits: 27 - 52 degrees
Drive system: Polymer worm/worm-rack
Motor output speed at rated load: 62 rpm
Motor output torque at rated load: 18 lb ft
Motor output amps at rated load: 14 Amps
Track (rail) type: Extruded aluminum
Average return trips per charge: 20 - 40 (varies with load, length)
Switchable arms (Left or right hand operation): Yes
Need to open chassis to install or change sides: No
"Pinnacle" is a trademark of Harmar Mobility