Harmar Vantage Indoor Stair Lift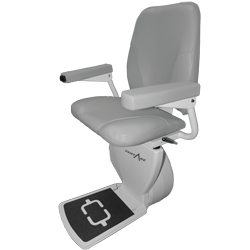 Designed for cost-conscious buyers; the Vantage stair lift is a safe, comfortable, low maintenance lift that is easy to install. Utilizing a well protected rack & pinion drive system and a speed regulator, users will experience a smooth, consistent drive speed as they ascend or descend. And with an upholstered seat and anodized rail, the stylish stair lift is sure to complement your home decor.
Features
Speed regulator for comfortable, constant speed in both directions
Modern styling with upholstered seat
Traditional rack & pinion drive system for cost effectiveness
Simple & durable design using 20% fewer parts
Quick & easy installation keeps total cost down
Covered gear rack keeps your stairs clean
Compact, folds to 13.6" to allow others to pass by
DC drive system can operate several cycles during power outages
Powerful for stair inclines up to 45-degrees
Includes 2 wireless remotes
Specifications
Weight capacity: 300 lbs.
Stair angles: 25 - 45 degrees
Return trips/charge: 6
Speed: 19 ft/min.
Shipping weight: Approx. 184 lb.
Interchangeable arms: Yes
Interchangeable side to side: Yes
Battery: 24 VDC
Power supply input: 120 VAC; 15A 60 Hz
Power supply output: 33 VDC; 1.2 Amps
Drive system: Rack and pinion
Rail: Extruded aluminum
Plastic covers: ABS - flame retardant
Please visit the Harmar Website for more information on the Vantage Stair Lift.