Stannah Outdoor Stair Lift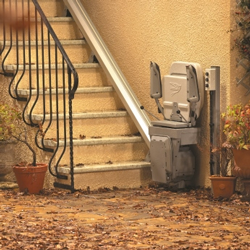 The Stannah 320 Outdoor gives you access to the world outside the walls of your house. Installed far more quickly and taking up a lot less room than a ramp, this stairlift can also be used to bring your groceries and other items upstairs. Designed for hot and cold climates, it has proven its abilities everywhere from New England to Hawaii. The 320 Outdoor also comes with a protective cover and can be locked by key for extra security.
Features
Weather Resistant
Winter Use - As low as 10° C
Versatile - Can be insattled on stone, wood, concrete or brick
Seat Belt - For user or cargo strap for groceries
Easy Controls - Push button controls
Swivel Seat - Provides a barrier between user and stairway at top
Security Lock - Prevent unauthorized use
Obstruction Detection - Lift will stop if anything is in the way
Folds Away - Provides more room for others to use stairway
Protective Cover - Keeps snow and rain off the seat
Specifications
Min. width unfolded: 25.7" (654mm)
Min. height unfolded: 25.7" (654mm)
Min. width of folded up: 13.3" (339mm)
Min. height of folded up: 13.3" (339mm)
Weight Capacity: 300 lbs
Please visit the Stannah Website for more information on the Stannah Stair Lifts.