Harmar SL350AC Indoor Stair Lift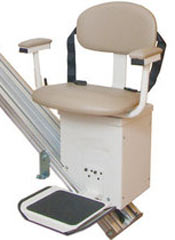 The SL350AC Indoor Stair Lift is manufactured by Harmar Mobility. The Access Indoor Stair Lift from Harmar is a great solution when walking up and down your indoor stairs in no longer an option. With a cable-operated system that uses steel aircraft cable rated at 4,200 pounds breaking strength, you are guaranteed a smooth and safe ride. And quick too at a speed of 20 feet per minute.
One of the features of this unit that separates it from its competitors is that the seat swivels a full 90 degrees at the top and the bottom of the lift, this allows for safe entry and exit of the stairlift. It also has safety sensors on each side of the footplate which stops the lift if there are any obstructions on the track. And call/send stations both at the top and bottom of the unit makes it convenient no matter where you need it.
Features
Rocker controls with constant-pressure functionality stop the lift immediately if the control is released
Mounts to the stairs (not the wall) on either side of staircase
Operates on standard 115 VAC household current
Extruded aluminum track is available in custom lengths
Seat and footrest fold to save space
Separate controls at top and bottom of stairs
Upholstery Colors: Light Almond, Evergreen, Mocha
Specifications
Weight capacity: 350 lbs (160 kg); 250 lbs.over 20 ft.
Power source: 115 VAC
Seat size: 19Ó W x 14Ó D x 14Ó T
Travel distance: 16 ft standard; available up to 25 ft
Speed: 20 fpm
Incline limits: 30 Ð 45 degrees
Drive system: Cable Drive
Track (rail) type: Extruded Aluminum
Safety Devices: Limit Switches; Final Limit Switch; Slack Cable Brake w/ Switch; Footrest Obstruction Switch; Swivel Seat Cut-off Switch; Constant Pressure Controls
Warranty: 2-year on components