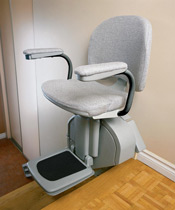 | | |
| --- | --- |
| Savaria Step Saver Straight Stair Lift | |
The Step saver stair lift is an older model that is no longer available from Savaria. It has been replaced by an updated model, the SL-1000.
The Step Saver Straight Stairlift, manufactured by Savaria / Concord Elevator in Brampton, Ontario, features a battery powered rack and pinion drive system for years of quiet and reliable performance even during power outages. The Step Saver's narrow rail and folding seat features minimize the amount of space required on the stairway and it's neutral colour allow it to blend in with almost any decor.
Specifications
Application - Indoor, Outdoor, straight run stairway
Maximum Travel - 32 ft (9,754 mm)
Speed - 20 fpm (0.1 m/s) approx.
Angle of incline - 25 to 50
Rated load - 300 lbs (136 kg)
Drive system - Rack and pinion
Motor - hp, 24 VDC. Charges on standard household current 120VAC, 50Hz at top or bottom landing
Standard color - Beige carriage and upholstery, grey or beige rail finish
Step Saver Straight Stair Lift Features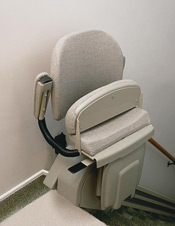 Rigid and compact aluminum extrusion rail
Support posts anchored to stair treads
300 lb (136 kg) capacity
"Almond beige" seat and rail
Adjustable width between armrests from 18" to 21" wide (457 to 533mm)
Battery-powered 24-volt motor
Pair of 12-volt, maintenance-free batteries
Charger plugged in at top or bottom landing
Electronic controller with soft start and soft stop
Fused control circuit
Wireless infrared call-send controls at both landings
Continuous pressure buttons
Aluminum rail on 6" (152 mm) from wall
3" (76 mm) rail overhang at top landing with seat height of 18" (457mm)
22 1/2" (572 mm) seat height at bottom landing
Adjustable seat height
Unit is completely reversible on site for quick installation
Lateral adjustment on footrest for uneven treads
Foldable footrest, seat and padded armrests
Seat that swivels and locks in 45 and 90 positions both directions
Seatbelt and seat swivel switch
ABS plastic covers
Obstacle sensors under footrest and on carriage
For more information please visit the Savaria Website