Harmar SL350DC Battery Backup Stair Lift
This model is no longer listed on the Harmar website and has probably been discontinued. I've left the information online for anyone who may need it.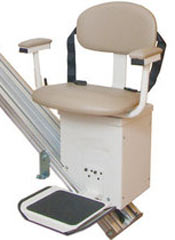 The SL350DC Battery backup Stair Lift is manufactured by Harmar Mobility.
The SL350DC model takes the Harmar Indoor Stair Lift one step further step further with a battery back-up system that provides 15-20 trips even if there is no power. With a cable-operated system that uses steel aircraft cable rated at 4,200 pounds breaking strength, you are guaranteed a smooth and safe ride. And quick too at a speed of 20 feet per minute.
One of the features of this unit that separates it from its competitors is that the seat swivels a full 90 degrees at the top and the bottom of the lift, this allows for safe entry and exit of the stairlift. It also has safety sensors on each side of the footplate which stops the lift if there are any obstructions on the track.
Features
Back-Up Battery provides 15-20 trips even if the power is out.
Installs on either side of the staircase.
Attaches to the stairs, not the wall.
Can be plugged in at the top or bottom of the staircase.
Specifications
Weight Capacity: 350lbs. (159kgs.)
Seat Size: 19" x 14" (21" width option)
Seat Rotation: 90 degrees (Top and Bottom)
Distance from Wall w/Seat Folded: 14"
Speed: 20 Feet Per Minute
Incline Limit: 30-45 Degrees
Seat Height - Top of Stairs: 19"
Seat Height - Bottom of Stairs: 23"
Warranty: 3-Year Parts/5-Year Drive Train