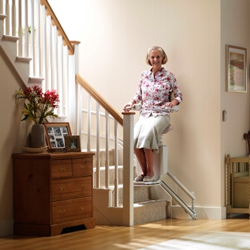 Sadler Standup Stair Lift
When you have problems with your knees or your back, stairs are an issue you would probably prefer not to face. But this can mean losing your freedom and independence in your own home! You won't have to with the Sadler stairlift from Stannah.
This stairlift allows you to glide up and down your stairs while standing tall - without unduly stressing your knees or your back. You can move in and out of the chair with ease and complete dignity.
Apart from being adjusted to your personal specifications, the Sadler has many features designed to ensure you a safe and secure journey.
Features
A Stand-Up Chair - Allows travelling up the stairs while partially standing
Adjustable Seat Height - Seat height is adjusted to the user's height
Non-Slip Seat - Ridges are built into the seat to prevent slipping
Narrow Stairway installation - Can be installed on stairways 26 ½"
Easy Controls - Push button controls
Easy Folding - The footrest folds when the arms are raised
Immobilizer Seat Belt - The lift won't operate unless the seat belt is secured
Remote Controls - controls mounted on each level allow to unit to be called to the user
Folds Away - Provides more room for others to use stairway
Protective Cover - Keeps snow and rain off the seat
Versatile - can be installed on curved or straight stairways
Specifications
Width folded: 16"
Width unfolded: 26.7"
Min seat height: 19"
Max seat height: 19"
Outside edge of Rail (from wall):6"
Weight Capacity: 300 lbs
Power & Battery Back Up
All Stannah stairlifts run on powerful batteries that trickle-charge when the stairlift isn't in use. If the power goes out? Depending on the length of the staircase, the Sadler will still run off the battery for up to 20 hours. In this instance, make sure you turn the stairlift on and off as needed.
The stairlift connects with regular 110 Volt household power outlets. Ideally, we will use one within 10' of the top or bottom of the stairs. It is best if an outlet is permanently live. This means the stairlift is always able to charge without being accidentally turned off.
Please visit the Stannah Website for more information on the Stannah Stair Lifts.