Acorn Superglide Stair Lift
The Acorn Superglide is an older model of Acorn stair lifts. I don't believe it to be still available from Acorn but I've left this information online for people looking for information on the Superglide.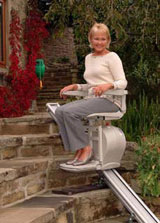 The Acorn Superglide Straight Stairlift, manufactured by Acorn Stairlifts in Steeton, United Kingdom, features a battery powered rack and pinion drive system for years of reliable performance even during power failures. The Superglide is available in an indoor and outdoor version and uniquely offers the option of being configured for the user to stand while travelling the staircase or a combination version which allows the user to either stand or sit.
This unit is only available for straight staircases but when two super glides are utilized, they can be suitable for staircases where the is a flat intermediate, flat 90 degree turn or flat 180 degree turn in the staircase. While the idea of purchasing two stairlifts instead of one may sound excessively expensive, it's actually less expensive than ordering a custom stair lift to accommodate these stairway configurations.
While manufactured in the United Kingdom, Acorn Stairlifts have regional offices in several countries and these lifts are available in many countries in North and South America, Europe, Australia and parts of Asia.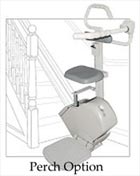 Superglide Stair Lift Options
Stair Lift Perch Option
The super glide offers a truly unique option in the stair lift industry with it's "Perch" option. Because most stairlifts face sideways when traveling the staircase they're usually not suitable for people who can't bend their legs but the perch unit solves this by allowing the user to ride up the stairs while standing. This option is also helpful for very tall people who have narrow stairways as their knees tend to rub against the opposite wall or railing when sitting on a conventional stair lift.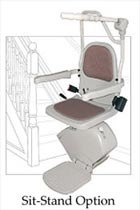 Stair Lift Sit-Stand Option
Another option unique to Acorn's Superglide is the "Sit and Stand" frame which allows the user to decide on whether to sit or stand while using the stair lift. This can be a great option in cases where more than one person will be using the lift or when the user has days when they aren't able to easily get up from a sitting position.
Stair Lift Outdoor Option
When the "Outdoor Option" is chosen, the Superglide is manufactured to be weatherproof and comes with a cover.
Stairlift Flip-up Rail Option
The optional "Flip-up Rail" is useful in situations where the rail at the bottom of the stairs is a tripping hazard due to doorways or staircases where the bottom is out in the open.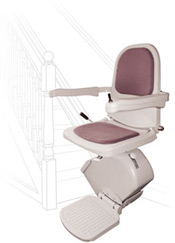 Superglide Stair Lift Features
Electronic and mechanical braking systems - This eliminates any possibility of an uncontrolled descent of the stair lift.
Limit sensors - During ascent or descent, the stair lift will come to a 'soft stop' at the proper position.
Choice of Control - Mechanical joystick fitted to the seat arm or infra-red remote control handset.
Seat Belts - Inertia reel lap harness or a static, 3-point, fixed over-shoulder harness.
Seat Swivel - The stairlift seat swivels and locks in position for safe mounting and dismounting. The stairlift will not operate unless the seat is in the correct riding position.
Safety Sensors - Pressure sensitive safety surfaces on 5 surfaces stop the stairlift in event of any obstruction on the stairway.
Diagnostic Digital Display - Shows when the lift is in the normal operating position and provides diagnostic information.
Slim-line design - The fold-away construction makes the Stair lift unobtrusive and allows full access of the stairs.
Superglide Stairlift Specifications
Dimensions:
Overall height (from floor) - 40"
Height of seat - 19.5"
Overall depth (from wall) - 23"
Overall depth (when folded) - 13"
Width of footrest - 12"
Overall width - 22"
Depth of seat - 16"
Specifications:
Motor power - 0.25 kW
Motor output speed - 22 rpm
Drive - rack & pinion
Power supply - 24 v DC (battery)
Maximum capacity - 280 lbs (350 lbs available)
Track - extruded aluminium
Mains supply - 110v, 50Hz charger