Citia Stair Lift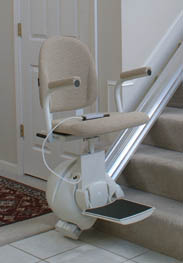 The Citia Stair Lift is manufactured by the ThyssenKrupp Elevator company (formerly American Stairglide) which has offices throughout the mainland United States. Their products can be purchased through their dealer network.
The Citia Stair Lift is designed for straight staircases and while originally designed to be battery operated, now is also available as a model which will run on Regular house current. The advantage of running on house current is that batteries will eventually wear out and need replacing. The disadvantage of running on house current is that it won't work in the case of a power failure.
The Citia Stair Lift offers the choice of 5 different seats from the most basic to the most deluxe. The seat on this stair lift can be changed if upgrading become necessary in the future. These seats are known as the Standard, Standard Plus, Select, Silver and Excel.
When the Select, Silver or Excel seats are ordered an optional attachment known as the Shuttle can be used to carry cargo as well as people up and down the staircase.
The Citia stair lift is designed for safety, comfort and convenience. Its sensors will automatically detect something blocking its path and gently stops to prevent damage to the lift or the object. When the object is removed, the stairlift continues on to your destination
Citia Stair Lift Specifications
| | |
| --- | --- |
| Stair Shape | Straight |
| Capacity | 300 lbs. (375 lbs. with Silver seat) |
| Speed | 19 feet/minute |
| Travel | 32 Feet Maximum |
| Stair Angle | 25 to 45 Degrees |
| Drive Sytem | Rack & Pinion |
| Brake | Self-locking Worm Gear |
| Motor | 1/2 HP, 24 VDC |
| Power Supply | 115 VAC, 60 Hz |
| Operating Power | 24 VDC Batteries or 115 VAC |
| Remote Controls | Two Wireless Remote Controls |
| User Control | Constant Pressure Handheld Pendant |
| Unit Depth | 14.5" Folded / 25.5" Open |
| Seat Height | Variable through a 3" range |
| Track | 5 1/2" Extruded Aluminum |
| Safety Devices | Footrest obstruction sensor, swivel seat cut-off switch, final limits, seat belt |
| Warranty | Five years on drive train and two years on all component parts |
Citia User Manual