XL-Base Turning Seat Base
Adapt Solutions XL-Base Turning Seat Base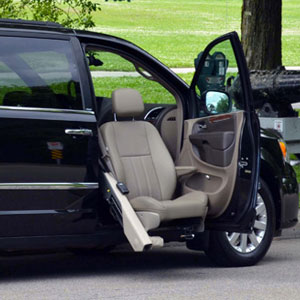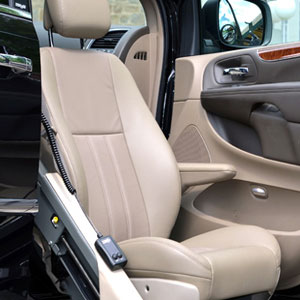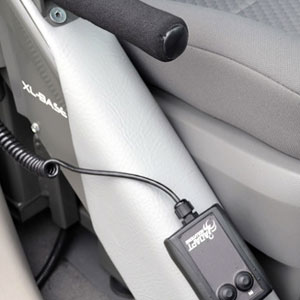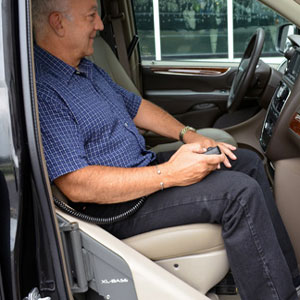 The XL-Base power turning seat base from Adapt Solutions is designed to provide easier access to minivans and installed in the passenger front or middle position using existing seat mounts. The XL Base reuses the van's original seat and can be uninstalled from the vehicle without leaving any trace of its having been there.
Using the seat
The XL-base is controlled with a simple two button pendant that controls the pivoting and lowering out the door of the seat.
To exit the vehicle the user draws their feet back to the seat, pushes the button and the seat rotates them out and lowers them. For those who are unable to hold their feet back comfortably an optional footrest is available.
To enter the vehicle the door is opened, the seat powered out the doorway and lowered to an appropriate height for accessing, the user sits on the seat or does a sliding transfer from a wheelchair, the seat is powered up to the set height and rotated back into the van using the control pendant and the door is closed.
Installation
Installation of this power seat involves the removal of the existing vehicle seat and base and then replacing it with the XL-Base and then reinstalling the original seat onto the new base.
No permanent modifications are done to the vehicle allowing the XL-Base to be removed for transfer to another vehicle and re-installation of the original seat mount.
User Requirements
In order to use a seat fitted with the XL-Base the user must be able to manage the following actions on their own or with the help of a caregiver:
Transfer onto seat
Hold down a button on a hand-held pendant
Manage legs and feet while rotating in/out of vehicle
Move head to clear doorway (if necessary)
Specifications & Features:
User Weight Capacity: 350 lb (159 kg)
Uses the vehicle's existing seat
Gentle consistent travel
Other seat positions not affected
Seat reclines completely
Optional footrest and armrest
Powered by vehicle electrical system
Manual backup system included
XL-Base Brochure and Video