Valet LV Turning Seat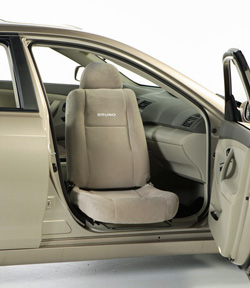 Bruno Valet LV Turning Seat
The Valet LV (Low Vehicle) power turning seat from Bruno Independent Living Aids is designed to provide easier access to many 2 door and 4 door sedans.
It is operated by a simple single button control pendant that rotates the seat from the forward position to facing the doorway of the vehicle and back again.
The Valet LV seat is available for driver side or passenger side installation in the front seat positions of many types of sedans and offers a choice of upholsteries.
Installation
Installation of this power seat involves the removal of the existing vehicle seat and replacing it with the Valet LV seat base and seat. Seat bases for the Valet LV are specifically designed for different vehicles to provide optimal operation.
No permanent modifications are done to the vehicle allowing the Valet to be removed for transfer to another vehicle and re-installation of the original seat.
Using the seat
Like other Valet models use of Valet LV seat is pretty simple. The user sits on the seat, pushes the pendant button and the seat rotates into the vehicle's forward position.
To exit the vehicle the user draws their feet back to the seat, pushes the control pendant button and the seat rotates them towards the door.
The manual seat release can be used to slide the seat forward for easier access when entering and exiting.
User Requirements
In order to use the Valet turning seat the user must be able to manage the following actions on their own or with the help of a caregiver:
Transfer onto seat
Hold down a button on a hand-held pendant
Manage legs and feet while rotating in/out of vehicle
Move head to clear doorway (if application requires it)
Operate manual seat slider
Specifications:
User Weight Capacity: 300 lb (136 kg)
Installed Net Weight: 80 lb (36kg) (minus removal of factory seat base)
Application Position: Driver/Passenger 1st Row
Applications: Many Sedans (2 dr, 4 dr)
Warranty: 3 year
Bruno Valet LV Seat Video