New Products: - The products in the "New Products" section of our web site are presented for informational purposes and while we believe them to be helpful and of good quality it is up to the purchasers to determine the suitability and value when purchasing.
Added: April 20, 2012
Guldmann GH3 Twin Ceiling Lift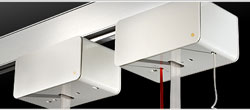 While I'm not sure how "new" this twin ceiling lift system is I am pretty sure it is unique in the ceiling lift industry. I came across this product earlier this week and felt it was interesting enough to be included in this "new products" section of our web site.
Benefits
The GH3 twin lift will basically enable the lifting capacity of the lift system to double for bariatric clients and make the lifting of stretchers and horizontal lifting supports more balanced and stable.
Function
The two lifts will work synchronously, yet it is possible to adjust them individually; for example if there is a need for Trendelenburg position (placing the patient head down and elevating the feet while laying on their back), together with horizontal lifting. The adjustment is done via the hand control using the buttons that are normally used for drive/traverse motor.
The GH3 Twin ceiling lifts can be used in a rail system together with rail curves, but cannot be used with combi-locks, switch tracks and turntables.
Specification Data Sheet
GH3 Twin Data Sheet Download - 569 kb.
About Guldmann Inc.
Guldmann is a Danish company that was established in 1980 with the concept to develop, manufacture and market technical aids for the disabled and working tools for their care givers. They have an extensive line of ceiling lifts, lifting slings and ceiling lift accessories for both residential and institutional use.
Manufacturer/Distributor
Guldmann Inc.
Region North America Office
5525 Johns Road Suite 905
Tampa, FL 33634

Toll Free: 800 664 8834
Phone: (813) 880 0619
Fax: (813) 880 9558

For more information please visit www.guldmann.net or email info@guldmann.net