New Products: - The products in the "New Products" section of our web site are presented for informational purposes and while we believe them to be helpful and of good quality it is up to the purchasers to determine the suitability and value when purchasing.
Added: October 14, 2014
Evacuscape Rescue Chair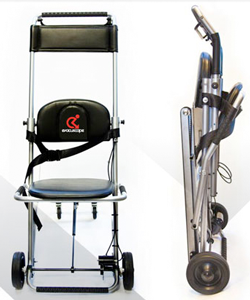 Evacuscape Rescue Chair
The Evacuscape Evacuation Chair is different type of equipment than I usually present here because it's not the type of equipment that many people would purchase for their own use. However, this evacuation chair is something that anyone who has a mobility impairment should consider having if they live in place where they would need to use stairs in an emergency. In an emergency where elevators can not be used the Evacuscape chair can make evacuation much easier and safer for those who are mobility impaired and can't use stairways easily.
While the evacuscape products are not a product a user can use without assistance, it is something caregivers or emergency workers could use to make transporting a person down stairways much simpler.
The Evacuscape Evacuation Chair is a lightweight narrow chair that a caregiver or emergency worker would transfer the mobility impaired person into so they can be rolled through a building and transported down a staircase quickly and comfortably during an emergency. The use of an evacuation chair reduces the chances of injury for both the user and those assisting in their evacuation.
Evacuscape Models
EC1

Single operator use.
Lightweight design (12 kg) and highly sturdy construction.
Exceptional weight capacity (165kg/363lbs).
Equipped with safety straps and a padded seat and backrest for superior comfort and protection.
Complete with wall bracket and protective cover.
10 year limited warranty. (5 years on track belts and braking system)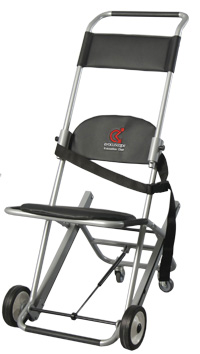 EC1 Evacuscape Rescue Chair
EC2

Single operator use.
Lightweight design (12 kg) and highly sturdy construction.
Exceptional weight capacity (165kg/363lbs).
Equipped with safety straps and a padded seat and backrest for superior comfort and protection.
Complete with wall bracket and protective cover.
5 Point safety harness.
Wheel locking brakes.
Evacuscape's unique patented braking mechanism is designed for added safety and control in assisting PRMs safely and efficiently down stairs.
10 year limited warranty. (5 years on track belts and braking system)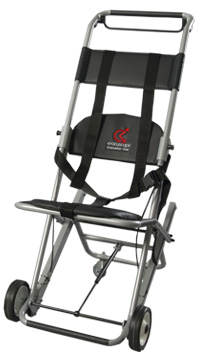 EC2 Evacuscape Rescue Chair
EC3

Single operator use.
Lightweight design (18 kg) and highly sturdy construction.
Exceptional weight capacity (227kg/500lbs).
Equipped with safety straps and a padded seat and backrest for superior comfort and protection.
Complete with wall bracket and protective cover.
5 Point safety harness.
Wheel locking brakes.
Evacuscape's unique patented braking mechanism is designed for added safety and control in assisting PRMs safely and efficiently down stairs.
10 year limited warranty. (5 years on track belts and braking system)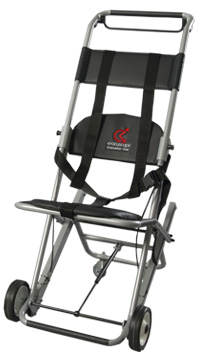 EC3 Evacuscape Rescue Chair
Video
Manufacturer/Supplier
Evacuscape Inc.
150 Steeprock Drive,
Toronto, Ontario
M3J 2T4

Phone: 416 247 4628 ext 122
Fax: 416 247 6110
For more information please visit http://evacuscape.com/ or email: info@evacuscape.com