New Products: - The products in the "New Products" section of our web site are presented for informational purposes and while we believe them to be helpful and of good quality it is up to the purchasers to determine the suitability and value when purchasing.
Added: October 12, 2014
ConvertaStep Lift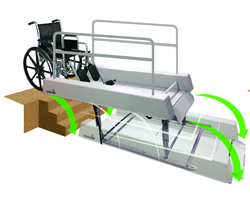 ConvertaStep Lift (up position)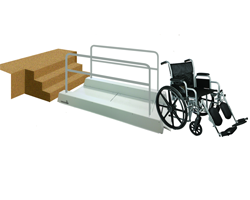 ConvertaStep Lift (down position)
I came across the ConvertaStep lift earlier this month and felt its unique style and operation might benefit some of our visitors.
The ConvertaStep lift was designed by a wheelchair user who didn't want a huge ramp in front of his house and didn't need an expensive porch lift that required installation.
The ConvertaStep Lift is delivered pretty much fully assembled and simply is positioned in front of the steps leading to a porch or deck.
The user wheels onto the lift platform and the ConvertaStep lifts them in an inclined arc to the porch or deck surface.
This lift is powered by a 12 volt battery that is kept continually charged by an automatic charger plugged into a a conventional 110 volt outlet.
Its 31" wide platform and 750 lb weight capacity will allow its use with almost every wheelchair user.
The ConvertaStep lift is available in three sizes and has controls mounted on the handrail and upper landing that raises or lowers the lift platform. The ConvertaStep lift, depending on the model chosen can travel up to 33" in a time period of between 8 and 15 seconds.
Features
Thick, weather resistant, powder coated steel
3 models offer adjustable range from 11" to 33"
Lifts up to 750lbs
Each unit comes with two (2) Remote Controls
Requires little to no maintenance
Pre-assembled reducing installation time and cost
Unit runs on 12V battery and battery maintainer, through the std home 110V outlet
One (1) year warranty
More Images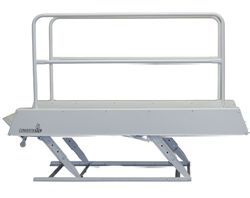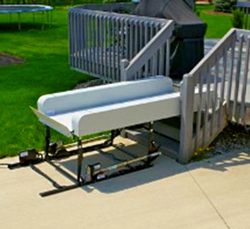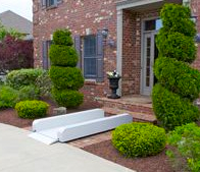 Video
Canadian Distributor/Manufacturer's Rep.
Wolfe Mobility
368 Main St.
Picton, Ontario
K0K 2T0
613-476-1768

For more information please visit wolfemobility.ca