New Products: - The products in the "New Products" section of our web site are presented for informational purposes and while we believe them to be helpful and of good quality it is up to the purchasers to determine the suitability and value when purchasing.
Added: April 16th, 2012
Observer Power Wheelchair with Leveling Seat
The Observer line of power wheelchairs are manufactured by Observer Electronic Technology Co., Ltd. of China. These power wheelchairs are unique in the home health care industry for a couple of reasons. The first unique feature is they are all four wheel drive chairs that are designed for rough terrain and heavy outdoor use. The second feature is an automatically leveling seat frame that will keep the user on a level plane when climbing or descending ramps or natural inclines.
Climbing up a steep slope in a wheelchair will give the user the feeling they will tip over backwards and descending the same ramp will make the user feel that they will slide out of the seat. The Observer power wheelchair with its automatically leveling seat will make the user more comfortable, secure and safe by keeping them seated on a level plane at all times.
Models
Observer power wheelchairs are available in four different models to meet the needs of most users.
Maximus

- This unique 4WD power wheelchair is equipped with gyroscope that automatically synchronizes the angle of your seat in relation to the ground (including such obstacles as stairs, borders etc). The Observer Maximus power wheelchair is the model that would be most suitable as an all around every day power wheelchair. The Maximus power wheelchair has all the technological benefits of the other models but is suitable for both indoor and outdoor use.

Off-Road

- Similar to the Maximus in design and function the Off-road model is equipped with larger tires for more rugged terrain making the Off-road Observer the most suitable model for soft surfaces such as sand and snow.

Optimus

- The Observer Optimus is a lighter/budget version of the Observer Maximus. The main difference is in the absence of a automatically leveling seat. The wheelchair sear is fixed in a horizontal position similar to other power wheelchairs on the market. While retaining the all wheel drive feature common to all the observer power wheelchairs the Observer Optimus provides many of the same benefits of the other models at a much lower price point.

Traveller

- The Observer Traveller power wheelchair offers the same features and benefits of the Maximus but it is equipped with a second seat in the rear to carry a passenger.
Images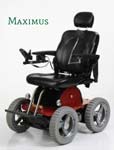 Maximus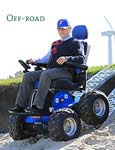 Off-Road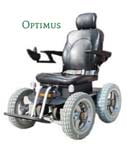 Optimus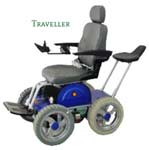 Traveller
Observer Features
Auto-gradiometre allowing your center of gravity to change according to the angle of the surface
Able to climb and descend the stairs up to 25° and stairs as high as 15-17cm (5.9 - 6.7 inches) and normal slope up to 45° without any help
Constant full-wheel drive and super-powerful engines (2.5 kW total) the Observer power wheelchair is able to clime up to 45&deg track angle.
One and only electric wheel-chair able to make 360° U-turn at the spot, with a radius of only 58cm (22.8 in)
4 helium batteries (with a capacity of 27a/hr each) can provide up to 20 km (12.4274 miles) of climbing and driving on rough terrain, and up to 30 km (18.6411 miles) on straight and hard road surface.
unprecedentedly low position of the center of gravity on the chair, which in turn provides it with perfect stability
Seat sizes - High-back/low-back seat, 16"/18"/20"
Maximum speed - 7.5 km/hr
Range - 20-25km per charge
Maximum load capacity - 150 kgs
Maximum climb angle (slope) - 45 degrees
Maximum climb angle (stairs) - 25 degrees
PG R-NET controller, seat synchro moving gradient equipment
Warranty
For the lifetime of your electric wheelchair from the date of purchase, Observer will repair or replace at our option to original purchaser, free of charge, any of the following parts found upon examination by authorized representative of Observer to be defective in material and/or workmanship.
Warranty period for Observer electric wheelchair, purchased from official dealer, is one year.
Warranty period for frame - 24 months
Battery - 6 months
Motor - 12 months
Controller- 12 months
Brochure
Click here to download a .pdf copy of the Observer brochure (3.5 MB)
Please Note: I've presented this product here because I believe the concept of the automatically self-leveling seat can be an excellent feature for many users. I do not normally present products that are not easily available through the home health care industry in Canada but in this case I've made an exception because of the uniqueness of the products and the benefit they can provide to some users.
In spite of not having any dealers yet in Canada, these power wheelchairs can be obtained by dealers from Observer Electronic Technology. If these products are of interest to you I would encourage you to contact your local dealers and ask them to contact the distributor for more information and availability.
As with any products in the "New Products" section of this web site the information provided comes from the manufacturer and is assumed to be true and correct. I have not seen or tested this product and can not vouch personally for it's quality or its manufacturer's claims. Buyers should exercise caution when purchasing and assure themselves that the product is as represented prior to purchasing.
Manufacturer/Distributor Contact Information