New Products: - The products in the "New Products" section of our web site are presented for informational purposes and while we believe them to be helpful and of good quality it is up to the purchasers to determine the suitability and value when purchasing.
Added: October 12, 2014
Welcome Mat Ramp
Here's a neat idea I came across this month. It's a welcome mat that turns into a threshold ramp when needed.
The Welcome Mat Ramp from ConvertaStep is available in three sizes to accommodate thresholds and small steps from 1" to 8" in height.
For those who aren't able to easily lift the ramp portion up into position it is available in a motorized version that allows the user to raise the ramp with the push of a button.
Sizes
3' x 2' adjustable for 2-4" thresholds
3' x 3' adjustable for 4-7" thresholds
3' x 4' adjustable for 4-8" thresholds
Features
Adjusts to fit a range of threshold heights
Powder-coated steel construction
Covered in a beige colored carpet
Alternative to conventional threshold ramps
Acts as a door mat when lowered
Designed to accommodate all door swings
750 lb weight capacity
One year warranty on all parts
Made in the USA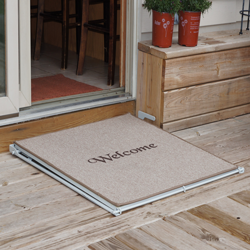 Welcome Mat Ramp (down position)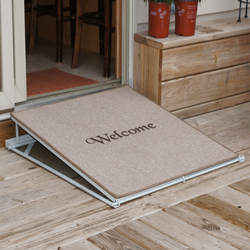 Welcome Mat Ramp (up position)
Canadian Distributor/Manufacturer's Rep.
Wolfe Mobility
368 Main St.
Picton, Ontario
K0K 2T0
613-476-1768

For more information please visit wolfemobility.ca