New Products: - The products in the "New Products" section of our web site are presented for informational purposes and while we believe them to be helpful and of good quality it is up to the purchasers to determine the suitability and value when purchasing.
Added: March 8, 2012
Amigo RD310000 Mobility Scooter
Amigo scooters have been manufactured in Michigan since 1968 and while they were one of the most common mobility scooters in Canada in the 1970's and 1980's, they have not been available in Canada for about a decade.
Amigo Mobility International, Inc. is now re-entering the Canadian market with a rear wheel drive, three wheeled mobility scooter that offers some features not found in other scooters. The Amigo RD310000 mobility scooter is a moderately priced scooter and is approved for ADP funding in Ontario.
Standard Features
Rear wheel drive
Color options: Champagne Beige, Cinnamon Red, Midnight Black, Pacific Blue
Great for indoor and outdoor use
Weight capacity: 350 lbs
Rear wheel width: 22.8 in (57.9 cm)
Infinitely adjustable handle maximizes individual steering comfort
360-degree seat rotation
Adjustable/removable flip-up arms
Amigo limited lifetime warranty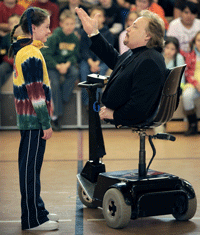 Options
Power Seat Lift -
The power seat lift option on the RD310000 mobility scooter is not unheard of in the scooter industry but it isn't common.
This optional feature allows users to adjust their seat height electronically as needed to reach items that are normally out of reach, to ease transfers or optimise their height when sitting at a desk or table.
3" Extended Platform -
The 3" platform extension provides the solution needed for those who have long legs and require more leg room than normally available.
Adaptable Seat Pans -
By replacing the standard upholstered seat on an Amigo scooter with a seat pan the user is able to make use of standard or custom made wheelchair cushions. Wheelchair cushions can offer a degree of pressure relief, skin protection and positioning that may be needed by those with more severe conditions or disabilities.
Modular Seating Systems -
Modular seating systems allow users to assemble a collection of components that are needed to provide proper seating for comfort and support. Modular seating systems offer a customisable seating system that can tailored to the users needs and adjusted or modified as needed.
Kosher Scooter Option -
Amigo works in partnership with Zomet Institute in production of the Shabbat Amigo used on the Sabbath. A toggle switch changes operation from normal to Shabbat mode. With no throttle lever activation by the rider, the module's timing circuit sets the chair in motion after 7-11 seconds, satisfying the "no work" Sabbath restriction. Each Shabbat Amigo is halachically-approved, individually inspected and certified by a Zomet representative.
Manufacturer Contact Information
Amigo Mobility International, Inc.
6693 Dixie Highway
Bridgeport, Mich. 48722
Phone: 1-800-MY-AMIGO
Fax: 800-334-7274
Service: 800-248-9131
Int'l: 1-989-777-0910

For more information please visit www.myamigo.com or email info@myamigo.com