New Products: - The products in the "New Products" section of our web site are presented for informational purposes and while we believe them to be helpful and of good quality it is up to the purchasers to determine the suitability and value when purchasing.
Added: September 6, 2014
Volaris Rollator Walker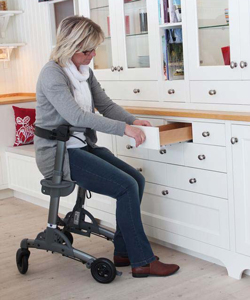 Click to Enlarge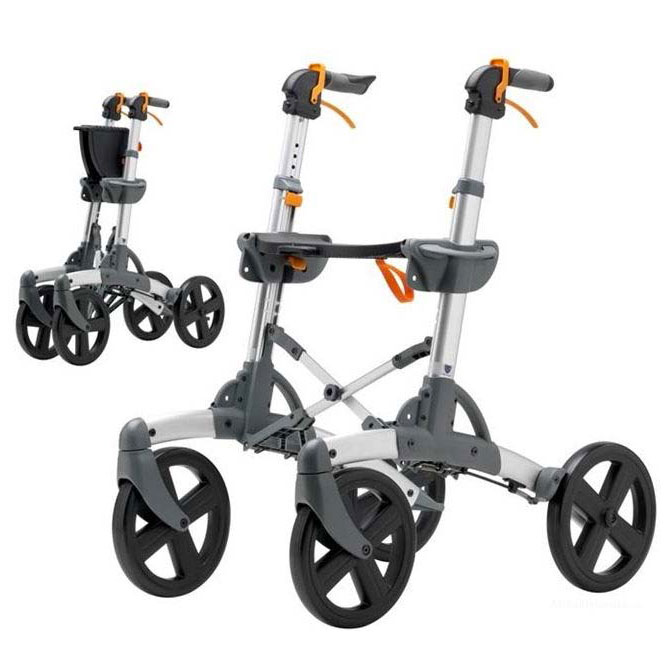 Click to Enlarge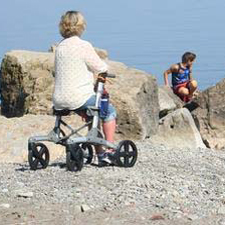 Click to Enlarge
I came across the Volaris rollator walker this week as was impressed by the simplicity and multitude of options, features and models available. In my opinion this is a high quality rollator walker that offers many features and options not found on other products.
The Volaris walkers are manufactured in Sweden and distributed in North America by X-L-ENT Care Products Inc from their locations in Niagara Falls, NY and Milton, Ontario.
Volaris Rollator Models
Five models of the Volaris are available. All models feature a strong, yet lightweight extruded aluminum frame which is flexible to compensate for bumps and varied ground, keeping all four wheels in contact with the surface.
Standard - The Standard Volaris is the base model and is suitable in size and design for the average walker user to use indoors and out.
SMART - The SMART model is an upgrade from the standard model that has its brake cables concealed within the frame to protect them from damage and getting caught on things.
SMART Compact - The compact model is a narrow model that has 5.9" wheels and is most suitable for tight areas and solid terrains.
SMART Shadow - The shadow model a handsome, distinguished looking rollator with darker color tones for a lower visual advantage (and no orange as on the SMART)
SMART Patrol - This is the all terrain model of the Volaris with large softer 10" wheels that will roll easily over rougher terrains than hard 8" wheels normally found on rollators.
SMART Kids - Light and flexible indoor rollator with functions to meet the kids special demand. Its 50mm narrower and 100mm shorter frame and smaller wheels makes it easy to maneuver in small places.
Volaris Options
Below is a list of the man options available for the Volaris rollator walkers.
Adjustable Backrest - Back strap similar to conventional rollators
Mesh Basket Model - Fine mesh that allows small items to be carried
Cane Holder - Clamp that mounts on the side of the walker to carry a cane
Slow Down Brake - A Roller that exerts an adjustable amount of pressure against the wheels to prevent them from spinning too quickly
Bag with Carrying Strap - A canvas like bag that can be removed and carried away from the walker
Transport Strap - To keep the walker securely folded
Tray - To carry items such as plates, books etc. (not recommended for drinks)
Oxygen Tank Holder - To carry high pressure oxygen cylinders
Bottle Holder - To carry drinks in cans or bottles
Soft Seat Material - Provides added padding for the seat
Wire Basket - For carrying larger items that won't fall through wire spacing
Umbrella and Holder - Secures to the walker so the user doesn't have to carry an umbrella
One-Hand Brake - For people who are only able to sqeeze the brakes with one hand
Lights Package - Little LED lights so user can be seen in the dark.
Volaris Versions
The SMART, SMART Shadow and SMART Patrol are also available in low, wide and low/wide versions while the SMART Compact is avalable in a low version.
Volaris Specifications
Model
Width
Seat
Width
Seat
Height
Handle
Height
Weight
Wheel
Size
Weight
Capacity
Standard
23"
16¼"
18" - 24"
30" - 40"
16 lbs
8"
310 lbs
SMART
23"
16"
18" - 24"
30" - 40"
16 lbs
8"
310 lbs
Compact
21"
14.2"
17" - 18&frac12"
24¾" - 31"
15 lbs
5.9"
275 lbs
Shadow
23"
16½"
18" - 24"
30" - 40"
16 lbs
8"
310 lbs
Patrol
23"
16&frac12""
18" - 24"
31⅓" - 41½"
19 lbs
10"
310 lbs
Kids
20¾"
14¼"
16½"
22¾" - 27½"
15 lbs
5.9"
176 lbs
Dimensions will vary for low (weight, handle height, seat height), wide (weight, width, seat width) and low/wide (weight, handle height, seat height, width, seat width) versions of the Volaris Rollators.
Additional Images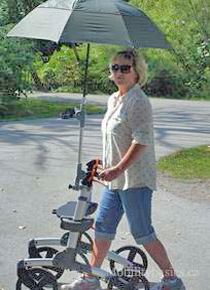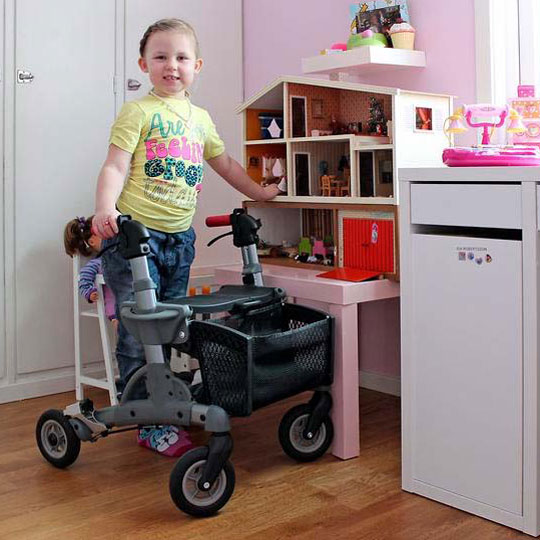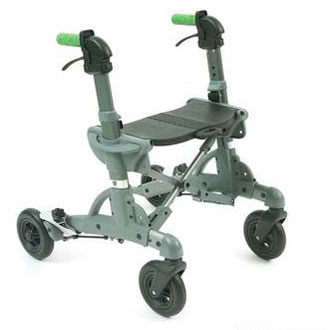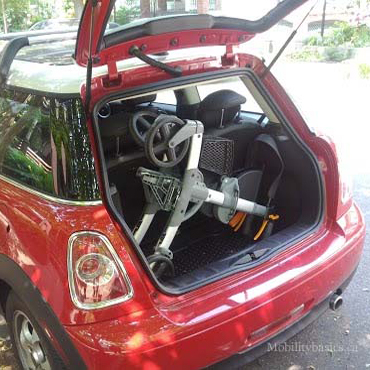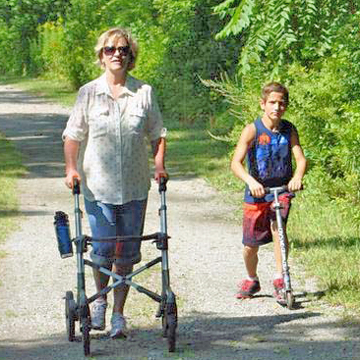 Warranty
Your Volaris S7 SMART has a two-year guarantee. The guarantee does not cover wearing parts such as handles, cables and wheels. It is also not valid if the rollator is subjected to abnormal use or is especially adapted without our participation.
Funding Information
The Volaris Smart is approved for funding in Ontario by the Assistive Devices Program. Pricing and terms of sale are specified by the Assistive Devices Program for those who access it. Contact the distributor for details and availablity in your area.
Distributor/Manufacturer
X-L-ENT Care Products Inc
Niagara Falls, NY, USA & Milton, ON, Canada
Toll Free: 1-866-315-9305
Phone: 905-749-1028

For more information please visit https://xlentcare.com/ or email customerservice@xlentcare.com