New Products: - The products in the "New Products" section of our web site are presented for informational purposes and while we believe them to be helpful and of good quality it is up to the purchasers to determine the suitability and value when purchasing.
Added: July 29, 2016
Neater Uni-Chair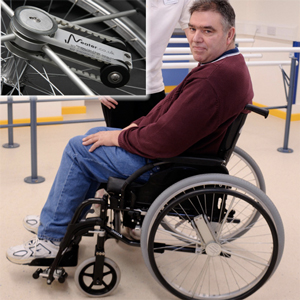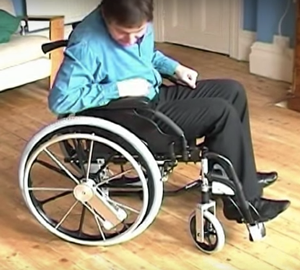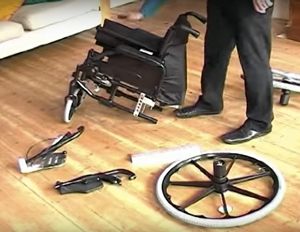 Neater Uni-Chair
The Neater UNi-Chair wheelchair is a chair specifically designed for those who suffer from hemiplegia (paralysis to one side of the body). Manual wheelchairs are normally designed to be propelled and steered by the use of both arms and hands and work very well for those who are able to use both arms. The Neater Uni-Chair is propelled using one arm and is steered using one foot.
For those who are affected by hemiplegia, manual wheelchairs are are often adapted for one arm use by adding one arm drive mechanism that allows propulsion and steering by the use of a single arm. Some one arm drive systems incorporate a double hand rim on one side that allows the user to drive both wheels by gripping the two rims or steering by turning only one hand rim. Another type of one arm drive is the lever drive that uses a lever connected to a rear wheel to move the chair and turned to steer the chair. Both of these types of one arm drives are options added to the basic wheelchair at time of purchase or added afterward.
The Neater Uni-Chair user uses one arm to propel the wheelchair using a hand rim that is connected to both wheels by means of a special differential that allows the wheels to turn at different rates when needed and one foot that steers the chair using a footplate on the footrest. When the foot turns the turning footplate the front caster turns in the direction the user designates and the wheelchair follows.
Benefits
Users who only have the use of one arm and one foot can achieve independent mobility.
Features
Transmissions are adjustable forward and backward propulsion suiting users of all sizes and enhances balance and stability.
Mobility increases independence
Clinically proven to be more efficient and easier to use than alternative devices
Tight corners even with one wheel stationary are easily achieved
More even pressure on the user's body than alternatives
Good for exercise
Easy to fold up and transport
Easily driven - turning a single hand rim to drive both wheels
Unique differential allows the wheels to turn at different speeds
Easily steered - small turns of the foot are amplified to turn the castor
The design answers many of the needs of wheelchair users particularly the young or those with reduced upper body strength who wish to achieve, maintain, independence and health and also those more active looking for a design that will give mobility over distance and terrain without resorting to electric wheelchairs or a vehicle.
Neater Instruction Video
Manufacturer
Neater Solutions Ltd.
12 Burlington Rd, Buxton SK17 9AL, UK.
Brandon, Manitoba R7A 2X4

Phone: +44 (0) 1298 23882
Email: info@neater.co.uk
Website: www.neater.co.uk

North American Distributor
Email: NeaterUSA@gmail.com