Standard Porch and Vertical Platform Lifts
Standard Porch lifts are, for the purposes of this page, lifts that are used in permanent, residential applications. These installations are normally bolted or lagged to a cement pad and hard wired or plugged into the house wiring. Although considered permanent, these units can usually be uninstalled when no longer needed or the user moves and transferred to a new location.
---
Savaria/Concord - P.A.L. Vertical Platform Lift
The P.A.L. vertical platform lift provides a safe and reliable means of access for your home or commercial building. The P.A.L. presents an aff ordable solution with a pleasing appearance and is designed for use in either indoor or outdoor applications.
The P.A.L. features a smooth hydraulic drive utilizing a state-of-the-art battery back-up system that provides uninterrupted service in case of a power failure.
The standard P.A.L.porch lift is an open model built to last with rugged materials and a powerful hydraulic system, designed for either residential or commercial use. The P.A.L.'s size and height can be customized to fit your exact application.
The residential model features a gate at the upper landing and an automatic folding ramp at the lower landing.
Separate controls at each level ensure that your lift will be exactly where you want it at the push of a button.
409 Stainless Steel Construction in Tower and Mechanical Assembly
48" (1220mm), Lifting Height From Floor To Floor
Rated Speed of 15' Per Minute (0.075m/sec.)
1:2 Cable Hydraulic Drive System
1 HP 24 Volt DC Motor
24 Volt DC Solid State Electronic Controller
Power Requirement: 110 Volts, 1 Phase, 15 Amps
Battery Backup Operation in Both Up and Down Directions
Automatic Battery Recharging System
Slack Cable Safety Device
Lower and Upper Limit Switches with Final Limit
Manual Lowering Device (Keyed)
Negative Pressure Switch
Aluminum Framed Cab Panels with Aluminum Inserts and Baked Polyester Powder Coat in Architectural White
Anti-Skid Flooring on Platform and Ramp
Automatic Emergency Platform Lighting
Underpan Safety Sensor
Automatic Flip-up 16" (406mm) Entrance Ramp
Constant Pressure Directional Push Buttons on Car Station Control
Key Operated On/Off Switch on COP
Emergency Stop Switch and Audible Alarm Button on COP
---
AmeriGlide - Atlas Vertical Platform Lift - Residential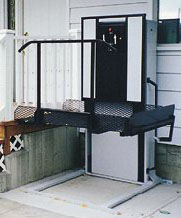 Independent mobility is your connection to the rest of the world. It allows you to remain active, improving your quality of life. It's your personal freedom, and that is important to us. That is our job.
Safety, comfort and convenience were the first considerations in design.
The AmeriGlide Atlas Vertical Platform Lift is used primarily for lifting persons with physical disabilities from the ground up to the main floor of their home.
It is designed to meet U.S. and Canadian safety standards and can easily be adapted to various situations.
The AmeriGlide Atlas Vertical Platform Lift's smooth and quiet performance makes this light weight, dependable and versatile unit perfect for any residential or commercial application.
The AmeriGlide Atlas Vertical Platform Lift is completely pre-wired, plugs into 110v / 15a wall outlet.
Straight though platform is 54" long x 34" wide.
Innovative soft touch control pads for ease of operation.
Direct drive worm-gear
Maintenance free operation
Expanded metal platform allows full visibility under platform
Keyed emergency stop to control use of lift
---
Cambridge - Deck Lift
The Deck Lift provides accessibility without barriers.
Compact and reliable, the units are engineered to endure the harshest weather conditions with protected controls and powder coated panels to resist corrosion.
Now you can enjoy an active, mobile lifestyle regardless of your limitations.
Even with in the case of a power outage the deck lift has full operation. No power, no problem!
Battery Powered Deck Lifts - Your best choice for independence and peace of mind
750 lbs. lifting capacity
Up to 6 feet of lifting height
Weatherproof controls.
No need for a dedicated power circuit
Operates on standard household current
Custom cab configurations available for those who may have special needs
Built in safety sensors prevent operation of lift if objects are in travel path
Right or left hand configuration available for controls
Constant pressure platform controls with key operation and emergency stop
Platform safety pan
Emergency lowering device
---
Bruno - VPL-3100 Vertical Platform Lift
With the introduction of the new Vertical Platform Lift (VPL-3100), Bruno has broadened the Accessibility Division's product line in a new direction - straight up!
Designed and built by Bruno's master craftsmen, the Vertical Platform Lift provides a rugged, reliable and affordable solution for individuals and caregivers who need assisted access to a porch or deck.
A significant amount of time and research went into the design and production of the VPL-3100, resulting in a simple, safe and dependable product, with an array of standard features, but still in an attractive price range for virtually any consumer.
The Bruno name has always meant trust, and our new Vertical Platform Lift extends that promise to another category of solutions "for your independence".
Automatic self-lowering folding ramp
750 lb lifting capacity
53" and 75" maximum floor to floor height (Model VPL-3153 and VPL-3175)
Separate up and down push-button switches with key switch control
Spring sensitive bottom plate shuts unit down when obstruction is encountered
Solenoid actuated braking at the landings
Welded steel tubular guide construction with formed 16 GA sheet steel guarding