How to Choose the Best Wheelchair Van for Your Wheelchair
by Susan Hawkins – AMS Vans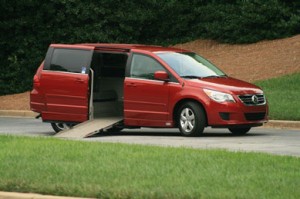 Wheelchairs come in a vast array of styles and sizes, as do the people who use them. While certain SUVs and pick-up trucks can be adapted for wheelchair access, the two major players in the world of personal wheelchair accessible transportation are minivans and full size vans. Which style is best for you? It depends.
In many ways, it's all about size - the size of your family, the size of your wheelchair, and, of course, your size while sitting in the chair. A mobility consultant at an accessible vehicle dealership can help you identify the best handicap van for you and your lifestyle, and, with this information, you're technically better prepared.
Family Size
If a wheelchair user is part of a small family (3-5) or lives alone, typically a handicap accessible is the wiser choice. Minivan cabins can be configured in a number of ways to maximize passenger space-jump seats and other special seating can be added. Even if you have two wheelchair users in the family, a modified minivan can easily be configured for both, but it depends on the size of the wheelchairs and the people using them. Both side entry and rear entry access wheelchair van conversions for minivans can accommodate two wheelchair passengers with the right configuration.
For a larger family (6+), especially an active, adventurous family,a full-size van might work better for transporting the family and camping equipment or other cargo. Of course, full size vans can easily accommodate two wheelchair users.
As you shop, keep the future in mind. If you're planning to grow your family in the next few years, or if the condition of the wheelchair user will change (requiring additional portable equipment, like an IV pole or respirator), those developments should be taken into consideration. You want your accessible transportation to serve you comfortably and usefully for as long as possible.
Wheelchair Size
A mobility consultant will need to know the height of the occupied wheelchair from the floor to the top of the user's head and width of the wheelchair from the outer edges of each wheel. A lowered floor in minivans and, often, a raised roof in full size vans allow for sufficient cabin headroom. Door opening heights, widths, and ramp widths differ among conversion manufacturers and the variety of minivans they modify (Honda Odyssey, Dodge Grand Caravan, Toyota Sienna, Chrysler Town & Country, and other makes). For minivans, the door opening height reaches as high as 56" for a side entry (with ample headroom inside the cabin), and ramp widths range from 26" to 30". Rear entry vans have a slightly larger opening, some also as high as 56", and an expanded width which accommodates wider chairs. Ramp width is also greater, usually from 30" to 32.5". Some manufacturers even have ramps as wide as 34″ for larger wheelchairs. Rear entry vans often work better for larger power chairs and mobility scooters.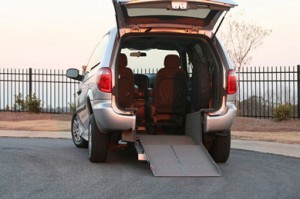 Full size vans with a raised roof, door extensions,and a lowered floor can have a door opening as much as 63.25" in height, and they use lifts instead of ramps for access and exit.
The dealership consultant will use your wheelchair and user specifications to determine which conversion, minivan model, and even model year (along with all your other requirements) will work best for your needs.
Your Size
Yes, the wheelchair user's height and weight figure into the equation, but it's the combined weight and height of the wheelchair user and the chair that produces the numbers used to determine the appropriate van style. The Americans with Disabilities Act (ADA) requires that modified van ramps have a weight capacity of 600 lbs., though several manufacturers install ramps with 800-lbs. capacity. When the combined weight surpasses 800 lbs., a heavy-duty lift is required, so the full-size van would be the only option.
As you shop for a wheelchair accessible van, keep this information in mind, and you'll easily follow the reasoning behind your mobility consultant's recommendations.
Susan Hawkins
is a writer and video producer for
AMSVans.com
, which sells and rents wheelchair vans and all types of adapted vehicles online nationwide, with a guaranteed low price on all newly converted AMS-brand wheelchair van models. AMSvans.com also accepts trades and buys used wheelchair vans at competitive prices.