Manual Wheelchairs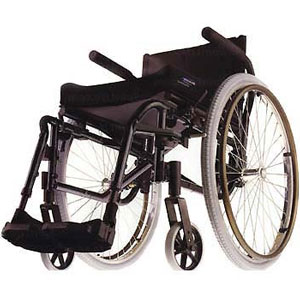 A recently as a couple of decades ago when a person required a wheelchair their doctor would write a prescription which would be taken to a store where the user could pick out a wheelchair. Those chairs would have been available in a couple of sizes with a couple of colours of vinyl upholstery. They would have had steel frames covered in chrome and weighed about 60 pounds.
Today, there are literally hundreds of options to choose from when purchasing a wheelchair and wheelchair vendors fit the chair to the person rather than fitting the person to the wheelchair. Wheelchair are constructed of several materials such as steel, aluminum, titanium, carbon fiber and a buyer may have a choice of up to 20 colours to choose from. Upholstery is usually black but many chairs offer coloured upholstery in several types of material. For the most part all of these options are more about appearance rather than function, with the exception of frame material.
While appearance is important to most wheelchair users, function and comfort is still a priority and there have been huge advances in technology since the 1970s which allow one to choose a chair which will be the best possible combination of function, appearance and comfort for the needs of the user.
Wheelchair manufacturers have realised that a wheelchair has to meet the needs of its user and have created models to meet those needs. When ordering a wheelchair these days in addition to choosing colours and style the buyer has a choice of seat height, width and depth, back height, arm style, footrest/legrest style, wheel and caster size and type, brake type and a large selection of optional equipment and seating products.
The objective of writing this fact sheet, and in fact this web site, is to provide useful information on wheelchairs and other related home medical products for those who are in need of equipment and would like to have information which will allow them to make informed choices.
Types of Manual Wheelchairs
Manual wheelchairs can be categorized in about eight general categories and each category is designed for a specific type of user. The following links will take you to information on each of the categories including their particular benefits and drawbacks.
For more information on manual wheelchair types please visit: