Modular Versus Wooden/Concrete Wheelchair Ramps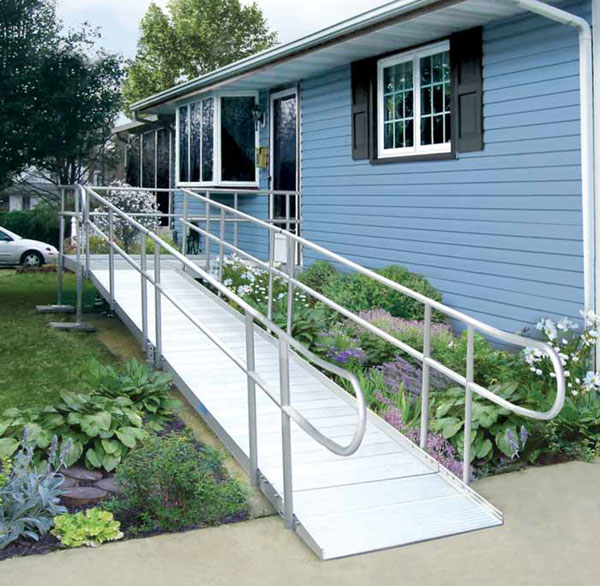 Armada Modular Ramp
What is a modular ramp?
Modular wheelchair ramps are ramp system that use multiple components to create a wheelchair ramp that will fit almost any application. They are usually sold in kits but can usually be modified as needed by swapping, adding or removing components to come up with a length and configuration to fit the application.
Modular ramps consist of ramp sections that are usually in lengths from 2' to 10' in 2 foot increments. For example, an 18' ramp can be obtained by ordering a 2' and two 8' ramp sections, connecting the sections together and adjusting the supplied legs to the heights needed.
Modular Ramp Characteristics
Semi-Permanent
Moderately strong
Maintenance free
Very durable (aluminum doesn't rust like steel or rot like wood)
Moderate cost
Aluminum Ramp and platforms permanently textured
Can be assembled by anyone with some mechanical ability and basic tools
Custom Wooden/Concrete Ramp Overview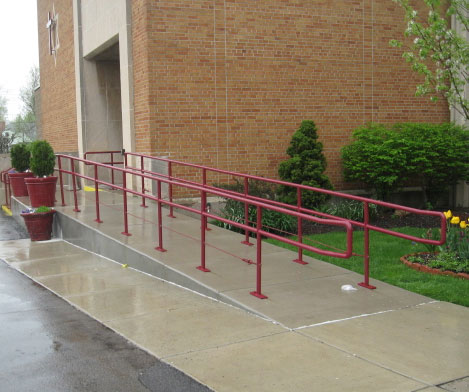 http://precisionconcrete.webs.com
Although all building codes require wheelchair access to all public buildings and multiple unit residences these days many older buildings will require a ramp of some type to meet accessibility codes that many governments are putting in place.
Concrete and wooden ramps are always custom-made to fit the given application and usually used to allow access to buildings that weren't intended to be wheelchair accessible when constructed. Building permits and contractors may be required depending on the local building codes.
Concrete Ramp Characteristics
Permanent
Very strong
Maintenance free
Extremely durable
Expensive
Contractor or construction knowledge required
Permanent anti-slip surfaces can be textured into the cement
Wooden Ramp Characteristics
Semi-Permanent
Moderately strong
Yearly maintenance required
Moderate durability (wood will eventually rot away)
Moderate Cost
Slippery when wet if no anti-slip treatment is applied and maintained
Can usually be constructed by a handyman
Esthetically pleasing to some
Added Benefits of Modular Ramps
Businesses who rent space and require a ramp will often choose modular ramps because they can either relocate them to a new location or sell them when no longer needed.
Residential customers, whether rental or homeowners, will also be able to relocate the ramp to their new home or sell the ramp if moving.
Modular ramps, even if not suitable for a new location, can be easily modified by adding or removing components.
No permanent changes (cement footings, building alterations, etc.) need to be made to a property to install a modular ramp. When removed, there will be no permanent indication the ramp was ever there.
Modular ramps are designed to meet normal handicap access codes and all parts and hardware needed is supplied including detailed assembly instructions.
Conclusion
Concrete wheelchair ramps are best used where a permanent wheelchair access solution is required by a building owner.
Wooden wheelchair ramps are best used where the ramp may be needed for up to ten years or so in a residential setting, someone is available for regular maintenance, the chance of having to relocate the ramp is low and the option of being able to sell the ramp when not needed is unimportant.
Modular ramps are best used where a permanent wheelchair access isn't needed, relocation of a business or residence is possible, no maintenance would be a benefit, the ability to modify the ramp would be beneficial and the option of selling the ramp is important.