Standard Wheelchairs - Pros and Cons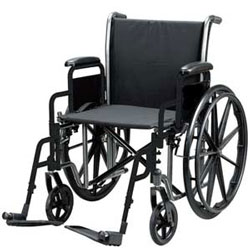 What is a "standard" wheelchair?
Standard wheelchairs are basic wheelchairs that offer few size options and few optional features. Their frames will usually be constructed of steel components and their upholstery of a heavy vinyl material. They don't lend themselves to customization and their overall weight will be in the 45 to 60 pound range depending on the size, make and type footrests they have.
The pros and cons of standard wheelchairs:
Pros:
Because of their steel frames standard wheelchairs have strong long lasting frames. Weight is not a primary concern in designing these chairs so the parts tend to be heavier than light weight chairs and provide excellent reliability.
These chairs are low in cost ($200 to $500) compared to lighter wheelchairs ($1,000 and up) because their heavier components are less expensive to make.
The standard wheelchair is simple in design which makes it less prone to breakdowns and easier to repair if they do have a problem.
These chairs have larger sized wheels that make it easier to propel or push the wheelchair.Suitable for self-propulsion by the user or as a transport wheelchair pushed by an attendant or caregiver.
Standard wheelchairs will fold from side to side to make transportation and storage easier.
Cons:
Standard weight wheelchairs offer few optional features beyond footrests, some models may offer elevating leg rests, and a few aftermarket accessories. At 45 pounds and up, these wheelchairs are relatively heavy in weight compared to the lightweight chairs that normally start at around 30 pounds.
The size of a standard wheelchair will normally be either a 16″ or 18″ seat width. Some models offer a 20″ or 22″ seat width but the cost can escalate for sizes over 18″. No adjustability or customization is possible beyond setting the length of the foot rests.
Typical users for standard wheelchairs:
Commercial – Institutional
Most institutions will purchase standard weight wheelchairs. Because of their cost, strength, reliability and simplicity hospitals, nursing homes and other institutions choose this type of wheelchair for the use of their patients who do not have their own chair.
Residential – Personal Use
Users who do not need a wheelchair for basic mobility or will use it daily for longer periods of time are generally good candidates for a standard wheelchair.
These users are generally those who may need a wheelchair for occasional outings to doctor's appointments, shopping trips or outings where extended periods of walking may be required.