Tilting vs. Reclining Wheelchairs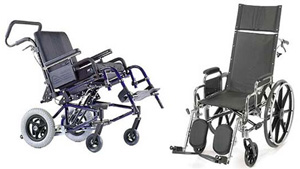 Tilting & Reclining Wheelchair
What's Recline?
A reclining wheelchair has a back rest that will recline from almost vertical back almost 90 degrees (almost horizontal). The recline action causes the hips of the user to open up and transform them from a seated position to a position more akin to laying on their back.
What's Tilt?
A tilting wheelchair has a seat frame that tilts backward in varying degrees from almost vertical back about 50 degrees. The tilt action on a tilting wheelchair does not open up the hip angle. The user stays in the same seated position but is tilted backwards. Tilt wheelchairs are often chosen for children and seniors who require comfort, stability and posture control.
Tilt versus Recline
I'm a big fan of tilting wheelchairs over recliners but each has its own purpose and there are a couple of things that may make a reclining wheelchair more suitable for some users.
Recline Features
Often used by people who have catheters and want to be able to change them while remaining in their wheelchair.
Usually a bit less expensive that tilt wheelchairs
Will usually fold for storage and transporting
Often used to get people into vehicles where there is inadequate headroom for a wheelchair user
Reclining wheelchairs have a few serious characteristics that need to be taken into account.
When a user is reclined part way, gravity will cause their bottoms try to slide forward out of the wheelchair. If the sliding happens they are likely to fall out onto the floor, if the seating prevents them from sliding, pressure is created called shearing which is very uncomfortable and will eventually lead to skin breakdown.
Also, when reclining, the user's back will slide down the back upholstery. This effect has two inherent problems. The first being that no moulded or contoured back rest can be used as the user will constantly be shifted out of position. The second is when the user is moved back to a upright position and shearing is once again created because gravity is trying to prevent the user's back from sliding up the back upholstery.
Elevating legrests are almost always ordered with reclining wheelchairs which add to the cost and weight of the wheelchair. Unless the legs are elevated most users find being reclined quite uncomfortable.
Reclining wheelchairs tend to be heavy and hard for a user to self-propel.
The final drawback is that is care giver must control the recline function on manual reclining wheelchairs. (high end power wheelchairs allow the user to control their back angle independently).
Tilt Features
Aids in positioning and posture control for both children and adults
Changes user pressure points and reduces the chances of pressure sores when tilt angle is changed regularly
Enables proper positioning when users are transferred into the wheelchair using a lift
Suitable for almost all custom seating systems and off the shelf seating components
Will help increase the field of vision for users who are severely bent forward due to a kyphosis ("roundback" or "hunched back").
Increase the length of time the user can stay in the chair if tilt angle changed regularly
Can be tilted back to allow entry into low entrances of vehicles
Can be tilted all the way back for resting or napping
Tilt Drawbacks
They don't, except for some small pediatric models, fold. This means the transporting and storing of them will require some thought and planning.
A second drawback is that due to their weight they are not easy to propel and really shouldn't be considered a mobility device for independence.
The final drawback is that is care giver must control the tilt function on manual tilting wheelchairs. (high end power wheelchairs allow the user to control their seat tilt independently).
Summary
Reclining wheelchairs, while still widely available, are seldom chosen by wheelchair users these days. Tilt wheelchairs will provide almost all the benefits, few of the drawbacks and some added benefits over the recliners.
The characteristics of both of these types of wheelchairs provide advantages for users who have more complicated needs than those of most conventional wheelchair users.