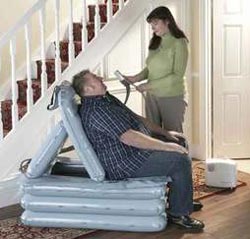 Available at Wrightstuff.biz online
Camel Air Powered Emergency Floor Lift
The Camel is designed to sit up and lift a fallen person from the floor either independently or assisted. Reduces back injuries when assisting someone from the floor. Operated by low air pressure using the Airflo battery powered compressor.
Features:
Particularly suitable for very large or bariatric people (lifts up to 700lbs!
Made of durable NYLON, coated in polyurethane
Has unique internal structure to increase strength and rigidity
Provides secure, rigid support for the person being lifted
Portable
Packs away into a compact and discrete bag
For use indoors or out
Minimizes manual handling risk - great for zero lifting policies
Includes 2 Airflo battery operated compressors
Specifications
Lifts up to: 700 lbs
Inflated seat height: 22"
Inflated width: 28"
Inflated backrest width: 24.5"
Seat Weight: 14 lbs.
Compressor Weight: 13 lbs.
Downloads
Download the Camel User Instructions