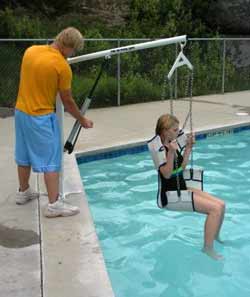 EZ Pool Lift
Aqua Creek's EZ Pool Lift offers manual lifting capabilities up to 400 pounds and is easily portable for storage and/or relocation to another pool area. Quality stainless steel construction and UV resistant powder coating finish ensure long life and corrosion resistance. Anchor included. The EZ lift acts as a fixed and portable lift and additional anchors are available.
Features:
Manual hydraulically actuated ram
400lb (181kg) lifting capacity
Stainless steel construction & hardware
Durable epoxy powder coated finish
Adjustable chains
Durable and adjustable mesh sling style seat
Concrete embedded anchor system
360 manual rotation
5-year limited manufacturer warranty.
Optional Accessories
Additional Anchor
Additional Length Sling
Additional Sling
Extended Anchor Arm
Hard Seat
Surface Mount Anchor
Wood Deck Anchor
Upgrade Package
Protective Cover
Specifications:
Materials: Stainless Steel
Sling: 20" x 38" (51 x 96.5cm) 100% polyester mesh
Chains: Stainless Steel
Finish: White Epoxy Powder Coat Finish
Actuator: Manual, Hydraulically actuated
Standard Anchor Set back range: 6" to 20" (15-50cm)
Operating Range: 53" (135cm)
Clearances: Wall height 26" (66cm), lowering depth 44" (112cm)
Rotation: 360° Manual
Ship weight: 70lbs (32kgs)