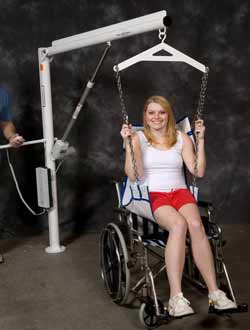 Power Super EZ Pool Lift
The Super Power EZ Pool Lift is a modified version of our very popular Power EZ Lift to be used on above ground backyard swimming pools. The Super Power EZ Lift was specifically designed to clear walls 10 inches thick and up to 58 inches high with push button ease, making it perfect for your above ground backyard pool or spa. All stainless steel construction with the same durable powder coating provided on all of Aqua Creek Products' other lift models, the Super Power EZ was built for years of trouble free use.
Features:
400lb (181kg) lifting capacity
Clears walls 10" thick by 58" high (25x147cm)
Set back Range: 22" to 24" (56-61cm)
Battery operated lifting actuator
Rechargeable 24v battery with charging station
Removable manual rotation bar
Adjustable stainless steel sling chains
Durable and adjustable mesh sling
Five year limited structural warranty
Five year pro-rated electronics warranty
One year warranty on sling.
Optional Accessories
Additional Anchor
Additional Length Sling
Additional Sling
Upgrade Package
Protective Cover
Hard Seat
Specifications
Materials: Stainless Steel
Sling: 20" x 38" (51 x 96.5cm) 100% polyester mesh
Chains: Stainless Steel
Finish: White Epoxy Powder Coat Finish
Actuator: Battery operated linear actuator
Standard Anchor Set back range: 21" to 24" (53-61cm)
Operating Range: 53" (135cm)
Clearances: Wall height 60" (152cm), Wall thickness 10" (25cm)
Rotation: 360° Manual
Ship weight: 140lbs (63.5kgs)