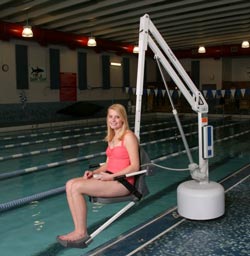 Power Revolution Pool Lift
Aqua Creek has developed another innovative and versatile lift designed for use on BOTH in ground and above ground pools and spas!
This innovative new lift takes many of the features customers have been requesting the most: a versatile lift that can be adapted to most pools and also can accommodate heavier patrons!
That's right; the NEW REVOLUTION actually has a weight capacity of 500 lbs (227 kg)!! That is 100 lbs (45 kg) more than the standard weight capacity of most of the lifts on the market today!
With the addition of the Revolution to Aqua Creek's product offerings there really is no reason to go to any other manufacturer for all your aquatic lift needs.
Features include...500 lbs (227 kg) weight capacity!, All stainless steel construction, Durable epoxy powder coating, Dual flip-up arms, Adjustable lap belt, Removable and adjustable foot rest, Set back ranges from 10 to 40 inch (25 cm to 101 cm), A full 360 powered rotation in either direction!, Ability to clear a 30 inch (76 cm) high wall, Ability to service multiple pools and spas in close proximity, 24-volt rechargeable battery operation, 5 year structural and 5 year pro-rated electronic warranty.
Optional Accessories
Revolution Lift Cover
Upgrade Package
Chest Straps
Heavy Duty 24" Wide Seat
Headrest
Stretcher/Gurney Assembly
Sling Option
Spineboard Attachment