Portable Porch and Vertical Platform Lifts
Most porch or vertical platform lifts are designed for and used in permanent applications where they are bolted to a cement pad however there are a few applications where portable units are preferable. Portable vertical platform lifts to allow occasional access to a stage or bleacher in applications such as schools, arenas or auditoriums. These portable porch lifts can be moved by truck or trailer from location to location or building to building as needed for special events.
---
PL-P Portable Platform Lift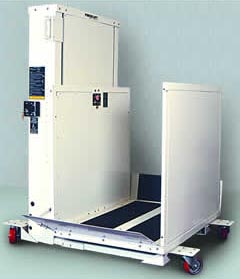 The PL-P was engineered for stages, courtrooms, schools and other such venues where the need for access occurs only occasionally. It is equipped with removable wheels, making it easy to position and lock into place for use, and easy to move out of the way when not required.
Each Porch-Lift undergoes rigorous testing for quality assurance prior to shipping. They fully comply with ADA accessibility guidelines. In fact, more architects and building owners trust the Porch-Lift product line.
Standard with four wheels for attachment to the base frame, one lifting lever and support block to assist in the installation and removal of wheels
750 lbs. rated load
Durable powder coat finish, making it weather resistant.
Call/send controls at upper and lower landings attached to tower
Standard manual lowering device
Four rollers for attachment to base frame, Lifting lever and support block to assist in installation and removal of rollers
Built in safety sensors prevent operation of lift if objects are in travel path
Right or left hand configuration available for controls
Constant pressure platform controls with key operation and emergency stop
15 1/2" automatic folding access ramp at lower landing, 10" automatic folding access ramp at upper landing
---
AmeriGlide Atlas Vertical Platform Lift - Portable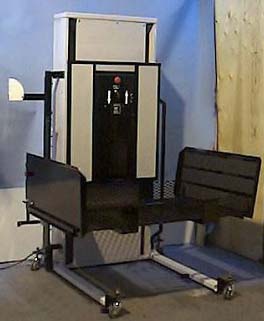 The AmeriGlide Atlas Vertical Platform Lift-Portable Package is a great solution for those lifting applications that don't require permanent installation, with the ability to store the lift when not in use.
From church pulpits to outdoor stages, the portable version of the AmeriGlide Atlas Vertical Platform Lift can be a safe, comfortable and convenient way for persons with disabilities to access places that were once unattainable.
It is designed to meet U.S. and Canadian safety standards and can easily be adapted to various situations including residential to commercial* applications.
The AmeriGlide lift's smooth and quiet performance makes this a dependable and versatile unit.
*For commercial applications please consult your local elevator branch for approval before beginning construction. Code requirements can very greatly from region to region.
The AmeriGlide Atlas Vertical Platform Lift is completely pre-wired, plugs into 110v / 15a wall outlet.
Straight though platform is 54" long x 34" wide.
Innovative soft touch control pads for ease of operation.
direct drive worm-gear
Requires minimal maintenance
Expanded metal platform allows full visibility under platform
Keyed emergency stop to control use of lift
---
Mobilift CX
The Mobilift CX is an Economical, Manually Operated lift that facilitates disabled access over Stairs, to Stages, as well as Bleachers.
The Unique Manual Operation of the Mobilift permits immediate use, wherever and whenever it's needed.
The absence of Batteries, Hydraulic and Electrical Components makes the Mobilift extremely reliable. Since there are no complicated parts to fail or replace, the lift is virtually maintenance free - a yearly component Check is all that is required. With a reasonable purchase price, the Mobilift is an economical way to accommodate special needs visitors at your facility. The Mobilift comes ready for use.
20" Bridge Ramp
Made of Aluminum and Stainless Steel
Lift Capacity: 600 LBS.
Weight: 268 LBS
Power Requirements: None
Occupies a 38"x72" Floor Space
Platform Size 34"x56"
Elevates To a Height of 60"
Powder Coated Handrail
Rough Terrain Features
Locking Cable
Operator and Owners Manual
2-Year Warranty