Standard Porch and Vertical Platform Lifts
Standard Porch lifts are, for the purposes of this page, lifts that are used in permanent, residential applications. These installations are normally bolted or lagged to a cement pad and hard wired or plugged into the house wiring. Although considered permanent, these units can usually be uninstalled when no longer needed or the user moves and transferred to a new location.
Porch lifts normally come in two drive styles:
The first is an acme screw drive which is basically a long, well greased, threaded rod mounted vertically inside the "tower" and penetrates a large nut mounted on the platform carriage. When the rod is turned by the lift motor the platform climbs up or descends the rod.

Because the platform won't move unless the rod is turning the platform will lock in place if there is a power failure or malfunction. These lifts come with hand cranks that will lower the platform but it has to be cranked by someone not on the lift.

The maximum lift for screw drive lifts is usually 72" and they ar eusually free standing.
The second type of drive is know as a 2:1 roped (or chained) hydraulic drive. A hydraulic ram located inside the "tower" pushes or pulls vertically on a bar that has two cables attached to it and the cables are routed through a pulley and attached to the platform which moves along a pair of rails inside the tower.

Because of the pulleys the platform will move twice as far as the hydraulic ram (6" of ram movement moves the platform 12") the height of travel is greatly increased (usually up to about 23 feet).

There are several things that, if they break or malfunction, will allow the platform to drop. Because of this there are brake mounted to the platform that automatically engage if the tension on cables is removed. In the event of a power failure this lift will stop climbing but can usually be lowered using the platform controls.
---
Savaria Multilift - Residential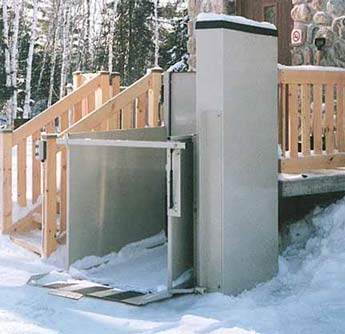 Gain convenient, easy and reliable access with the Savaria Multilift, vertical platform lift. The Multilift easily accommodates a wheelchair with a capacity of up to 750 lbs. Built with durability in mind, the Multilift is up for the challenge of tough climate conditions. You can count on this lift for reliable performance and ease of operation.
Multilift porch lifts are ACME screw drive type lifts that are available with a maximum of 72" travel (48" Standard), optional call/send controls, three cab sizes, four cab configurations, an optional battery backup system and a variety of doors and gates with electric controls.
ACME screw drive with back-up nut for strength and precision of movement
Self-supporting base and tower structure houses mechanical components
Travels safely and smoothly at 8 feet per minute (.04m/s)
Handles up to 750 lbs with 42 ⅛" side guard panels
Constant pressure controls for operation with key access on car and call stations
Under-pan sensors to stop the lift if it senses an obstruction and emergency stop button on car
Robust, non-skid, zinc-coated platform available in 3 standard sizes and optional 36" width
Automatic access ramp (16"), field reversible to suit installation need
Manual hand crank to lower or raise platform in case of power failure with optional
battery back-up operating system to allow full functionality of the lift for emergencies
12-volt battery operated model available (residential applications only)
Weather-resistant lock available for outdoor installations (Savaria WR-500 lock)
Add optional grab rail, platform gate, fixed access ramp, 90-degree exit or emergency light and alarm on car
---
Savaria M2Lift - Residential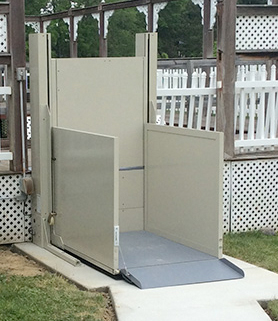 The Savaria M2lift is a chain drive porch/deck lift that is designed with the drive mechanism in at the end of the platform instead of in a tower beside the platform. Its design includes an top landing gate that removes the need of constructing a gate and creating a flush surface on the porch to prevent pinch points. Becasue the M2Lift incorporates the gate and flush porch surface installation costs can be greatly reduced.
This affordable vertical platform lift has a capacity of 750 lb (340 kg). With a 37" x 54" useable platfom area it will easily accommodate most types of wheelchiars and other types of mobility equipment.
Built with rust-resistant aluminum components this lift will stand up to cold and coastal climates and keep its attractive appearance for many years.
The M2lift is available in 3 lifting heights: 40", 60" and 75".
Applications: Residential, indoors, outdoors
Standard Capacity: 750 lb (340 kg)
Shortest Travel Distance: 15.5" (39.37 cm)
Maximum Travel Distance: 75" (190.5 cm)
Platform size: 37" x 54" (interior)
Nominal Speed: 10 ft/min (0.05 m/s)
Car access/configuration: straight through enter/exit
Drive/Motor: direct drive gearbox with chain suspension
Power Supply: 24 VDC motor and operating system with 120 VAC battery charging
---
Savaria V1504 - Residential or Public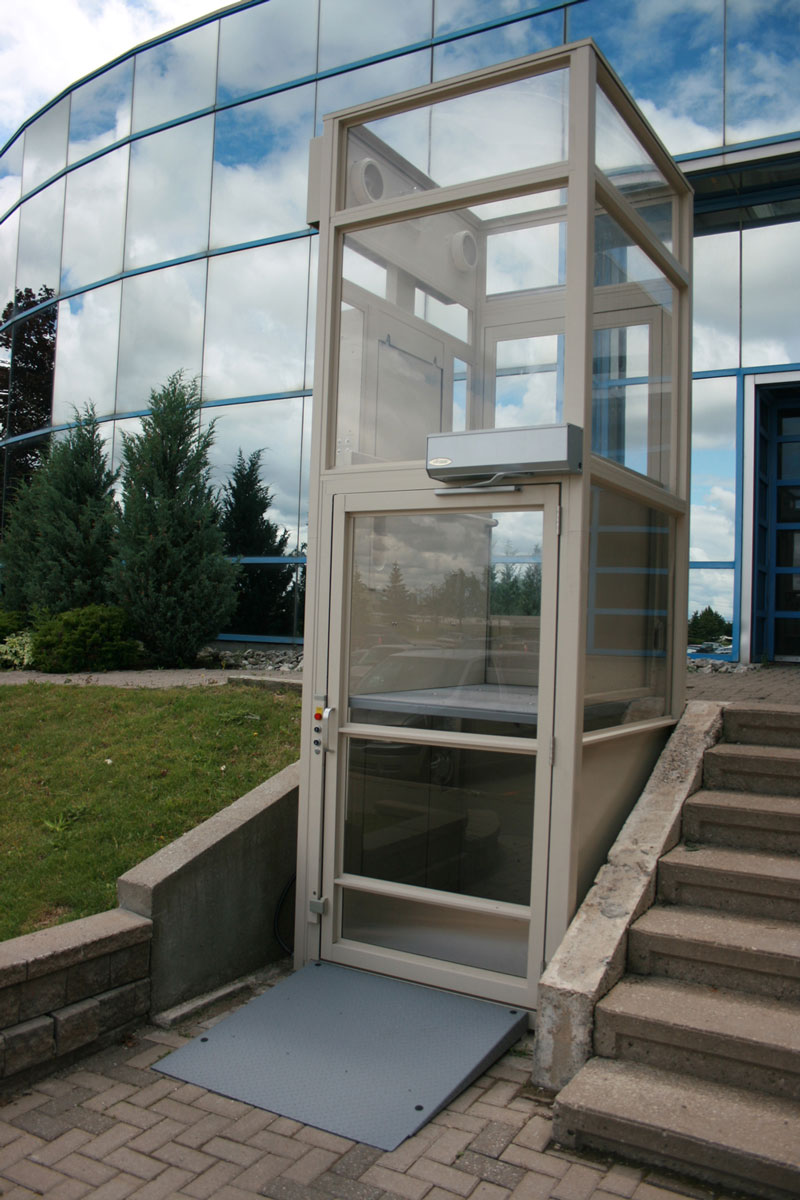 Were the Savaria Multilift has a travel of up to 72" and is designed service two levels the Savaria V-1504 lift is built to carry a wheelchair and passenger safely up and down mutiple levels and travel up to 23 feet (floor to floor). This lift is suitable for installations in public and commercial buildings and private residential locations, features an extremely versatile design that can be configured and customized to suit virtually any project requirements and aesthetic needs.
Driven by a reliable hydraulic system the lift travels up and down a rail system enclosed in the lift tower so no machine room is needed. The V-1504 can be configured as a porch lift or installaed in a shaft to resemble an elevator.
Can be built to suit virtually any home or commercial project from basic to the ultimate in luxury.
Smooth start, stop and overall ride that works dependably.
Enclosed drive system means no machine room is required, making the installation process easier.
Travels safely and smoothly at 20 feet per minute (.1 m/s)
Handles up to 750 lbs
Constant pressure controls for operation
Under-pan sensors to stop the lift if it senses an obstruction
Beige powder-coat paint
42 1/8" (1070 mm) side panels
Manual hand crank to lower the platform in case of emergency
12-volt battery operated with automatic recharging system
---
Cambridge - Deck Lift
The Deck Lift has been discontinued buy the manufacturer. I've left this informaiton here for anyone looking for information about it.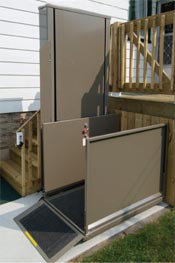 The Deck Lift provides accessibility without barriers.
Compact and reliable, the units are engineered to endure the harshest weather conditions with protected controls and powder coated panels to resist corrosion.
Now you can enjoy an active, mobile lifestyle regardless of your limitations.
Even with in the case of a power outage the deck lift has full operation. No power, no problem!
Battery Powered Deck Lifts - Your best choice for independence and peace of mind
750 lbs. lifting capacity
Up to 6 feet of lifting height
Weatherproof controls.
No need for a dedicated power circuit
Operates on standard household current
Custom cab configurations available for those who may have special needs
Built in safety sensors prevent operation of lift if objects are in travel path
Right or left hand configuration available for controls
Constant pressure platform controls with key operation and emergency stop
Platform safety pan
Emergency lowering device
---
Bruno - VPL-3100 Vertical Platform Lift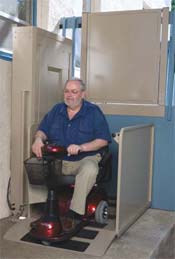 With the introduction of the new Vertical Platform Lift (VPL-3100), Bruno has broadened the Accessibility Division's product line in a new direction - straight up!
Designed and built by Bruno's master craftsmen, the Vertical Platform Lift provides a rugged, reliable and affordable solution for individuals and caregivers who need assisted access to a porch or deck.
A significant amount of time and research went into the design and production of the VPL-3100, resulting in a simple, safe and dependable product, with an array of standard features, but still in an attractive price range for virtually any consumer.
The Bruno name has always meant trust, and our new Vertical Platform Lift extends that promise to another category of solutions "for your independence".
Automatic self-lowering folding ramp
750 lb lifting capacity
53" and 75" maximum floor to floor height (Model VPL-3153 and VPL-3175)
Separate up and down push-button switches with key switch control
Spring sensitive bottom plate shuts unit down when obstruction is encountered
Solenoid actuated braking at the landings
Welded steel tubular guide construction with formed 16 GA sheet steel guarding
---
Savaria/Concord - P.A.L. Vertical Platform Lift
Savaria purchased Concord Elevator who originally manufactured the P.A.L. but discontinued it in favour of the V1504 above which was very similar. I've left this informaiton here for anyone looking for information about the P.A.L.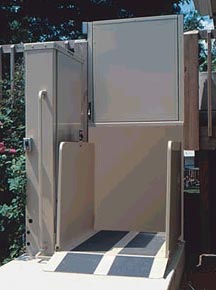 The P.A.L. vertical platform lift provides a safe and reliable means of access for your home or commercial building. The P.A.L. presents an aff ordable solution with a pleasing appearance and is designed for use in either indoor or outdoor applications.
The P.A.L. features a smooth hydraulic drive utilizing a state-of-the-art battery back-up system that provides uninterrupted service in case of a power failure.
The standard P.A.L.porch lift is an open model built to last with rugged materials and a powerful hydraulic system, designed for either residential or commercial use. The P.A.L.'s size and height can be customized to fit your exact application.
The residential model features a gate at the upper landing and an automatic folding ramp at the lower landing.
Separate controls at each level ensure that your lift will be exactly where you want it at the push of a button.
409 Stainless Steel Construction in Tower and Mechanical Assembly
48" (1220mm), Lifting Height From Floor To Floor
Rated Speed of 15' Per Minute (0.075m/sec.)
1:2 Cable Hydraulic Drive System
1 HP 24 Volt DC Motor
24 Volt DC Solid State Electronic Controller
Power Requirement: 110 Volts, 1 Phase, 15 Amps
Battery Backup Operation in Both Up and Down Directions
Automatic Battery Recharging System
Slack Cable Safety Device
Lower and Upper Limit Switches with Final Limit
Manual Lowering Device (Keyed)
Negative Pressure Switch
Aluminum Framed Cab Panels with Aluminum Inserts and Baked Polyester Powder Coat in Architectural White
Anti-Skid Flooring on Platform and Ramp
Automatic Emergency Platform Lighting
Underpan Safety Sensor
Automatic Flip-up 16" (406mm) Entrance Ramp
Constant Pressure Directional Push Buttons on Car Station Control
Key Operated On/Off Switch on COP
Emergency Stop Switch and Audible Alarm Button on COP
---