Public or Commercial Porch Lifts
When used in public or commercial applications there are usually many rules and regulations which govern the porch lift's installation, features and use. In Ontario, Canada, a public or commercial application is defined as an installation in a building where there is no family or more than one family normally resides but this definition varies from jurisdiction to jurisdiction.
Public porch lifts can be portable or standard and are not much different than lifts used in residential applications. When purchasing a porch lift for a public or commercial installation you are basically buying a residential lift which has been upgraded with extra safety features.
---
PL-S Standard Vertical Platform Lift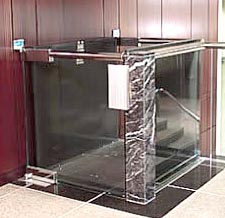 A marriage of function and form, the PL-S can be finished to seamlessly blend with its surroundings, maintaining the look and feel of your facility.
It's fully concealed within a hoistway and offers a selection of doors, gates, platform sizes and configurations to achieve the desired appearance and functionality.
Customize your lift by selecting from a vast array of options.
Each Porch-Lift undergoes rigorous testing for quality assurance prior to shipping. They fully comply with ADA accessibility guidelines.
750 lbs. lifting capacity
Durable powder coat finish
Constant pressure platform controls. Paddle with key operation and emergency stop with alarm
Operates on standard household current
3 maximum stops
Built in safety sensors prevent operation of lift if objects are in travel path
42" high guard panels with grab rail
ASME A-18.1 code compliant
---
AmeriGlide Atlas Vertical Platform Lift - Commercial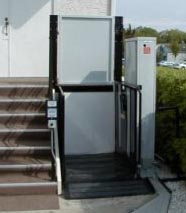 Providing access for persons with disabilities is becoming more and more a concern for not only the private section but the public sector as well. Businesses, churches, sports complexes to name a few examples are striving to accommodate and promote independent mobility for their clientele and to meet ADA (American Disabilities Act) compliance.
Our goal with the AmeriGlide Atlas Vertical Lifts was to design a lift that will provide a safe, comfortable and convenient way for individuals with disabilities and their families to gain access to places that before were unattainable. The AmeriGlide Atlas Vertical Platform Lift is designed to meet U.S. and Canadian safety standards and can easily be adapted to various situations. Its smooth and quiet performance makes the AmeriGlide Atlas Vertical Platform Lift a dependable and versatile solution for any commercial application*.
*For Commercial Installations, please consult your local elevator branch for approval before beginning construction. Code Requirements can vary greatly from region to region.
The AmeriGlide Atlas Vertical Platform Lift is completely pre-wired, plugs into 110v / 15a wall outlet.
Straight though platform is 54" long x 34" wide.
Innovative soft touch control pads for ease of operation.
Direct drive worm-gear
Requires minimal maintenance
Solid platform and safety sensor
Keyed emergency stop to control use of lift
Comes in optional 72", 96", 120", and 144" heights.
Commercial package includes:

Upper landing gate
Carriage gate (with lock)
Solid platform w/ safety plate
Emergency alarms and light pack
Lower keyed remote call station
One electrical / mechanical interlock with mounting brackets