Armada Modular Wheelchair Ramp Systems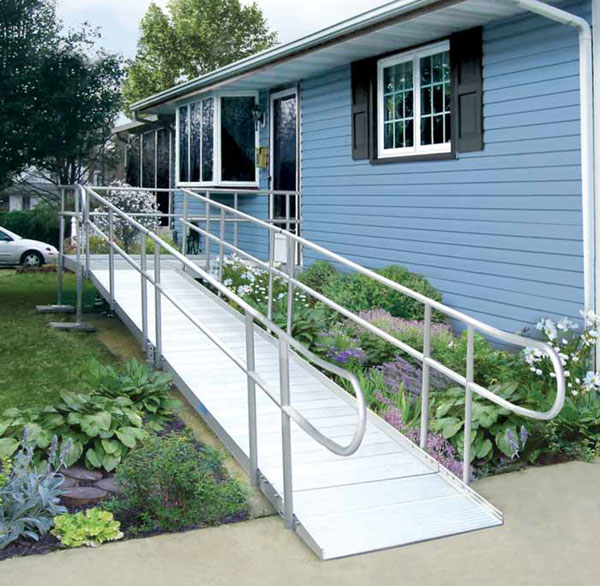 Armada Modular Ramp
Modular wheelchair ramps are the perfect solution for accessing porches and decks when permanent ramps aren't wanted. Modular ramps can be modified for different locations and can be assembled using just a few tools found in most households.
The Armada modular ramp system is a residential fully weatherproof aluminum ramp with stainless steel hardware that carries a 5 year warranty and can be assembled easily and quickly with a 1/2" tool. The Armada system meets all accessibility and building codes.
Alumiramp has many per-configured packages that can be straight, have 90° turns, 180° turns, intermediate landings and include handrails for one or both sides as required. For situations where the pre-configured packages are not suitable Alumiramp is happy to custom design a ramp to fit the customer's to fit the customer's needs.
As with other modular ramp systems components can be purchased
To meet most accessibility and building codes in Canada and the ADA requirements in the U.S. a modular ramp should have at lease 12" of length for every 1" of rise. Although some people may argue that these are portable ramps and not subject to building codes they are more accurately described as temporary and to be safe should meet building codes in your area. To find out what length you'd need for your ramp try our ramp length calculator.
Specifications
Material:
Aluminum
Surface:
Bidirectional knurled tread
Length:
As Required (minimum 4')
Useable Width:
36"
Weight:
Dependent on Length
Weight Capacity:
750lbs (ramp sections)
100 lbs (45 kg) per sq. ft. (platforms)
Compatible Equipment:
Power & Manual Wheelchairs, Walkers and Scooters
Usage Guidelines:
Porches & Decks
Features
10 Year warranty
Assembles easily with a 1/2" wrench
Legs can be recessed under the system for a clean look
All anodized aluminum: handrails and ramp will not chip, flake, or rust
Heavy duty welded aluminum construction
Non-combustible
Bidirectional knurled tread forms a rugged skid resistant surface that cannot wear off
Fully adjustable height and slope
All stainless steel fasteners
Universal platforms
No footings required
Recyclable