Travel Ramps™ Fiberglass Wheelchair Ramps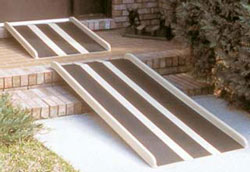 Travel Ramps™ fiberglass wheelchair ramps are unique in the ramp industry in that they are, to our knowledge, the only fiberglass wheelchair ramps manufactured in North America.
Travel Ramps™ are also the only ramp manufacturer we know of who will do some modification to their ramps to better serve the needs of the user. Standard modifications include added rubber to the bottom of the ramp to protect flooring and reduce slipping during use, and pre-drilling of mounting holes in ramp so they can be secured in place for added safety.
Fiberglass ramps are lightweight, strong, easy to handle and nicer looking than metal wheelchair ramps. In addition to these benefits, fiberglass wheelchair ramps are much more comfortable to handle in colder climates than metal wheelchair ramps because fiberglass doesn't absorb heat the same way.
Now available in either folding or non-folding design.
Specifications
| | |
| --- | --- |
| Material: | Fiberglass |
| Surface: | Non-Slip Stripping |
| Length: | 3', 4' and 5' |
| Usable Width: | 27" to 29" (dependent on length) |
| Weight: | 15, 20, or 25 lbs. |
| Weight Capacity: | 600 Pounds (272 kgs.) |
| Compatible Equipment: | Power & Manual Wheelchairs, Walkers and Scooters |
| Usage Guidelines: | Low Porches & Decks, Curbs, Steps, Thresholds etc. |
Fiberglass Wheelchair Ramp Features:
Lightweight and portable
More comfortable to handle in low temperatures than metal wheelchair ramps
Injection moulded fiberglass construction provides durability
Smooth rounded edges for easy handling
For indoor or outdoor use
Commercial grade non-skid tape for safety
Designed for wheelchairs, scooters, power chairs
2" rubber strip on top lip of wheelchair ramp reduces movement during use
Optional drilled mounting holes available for added security
Extra rubber backing available for added safety and to protect flooring
600 lb. weight capacity
Available lengths: 3', 4', and 5'
Two year manufacturer's warranty
Wheelchair Ramp Options:
Added Rubber

- Added rubber can be added to the bottom of the ramp to protect floors and inhibit slipping

Mounting Holes

- Mounting Holes can be drilled at the factory for more secured use

Custom Widths

- The new folding style of Travel Ramps can be customised in width according to you needs.