Solid Wheelchair Ramps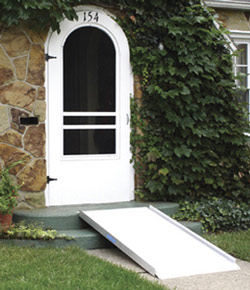 Solid Wheelchair Ramp
Solid wheelchair ramps are the simplest of the portable wheelchair ramps. They are a solid flat platform that can moved from place to place as needed. They will not fold and the larger sizes can't easily be loaded into a vehicle.
Solid ramps are, depending on the model, can be anywhere from 29" to 36" in width and are available in lengths from 2' to 10'. They can be used as a portable ramps that can be moved from place to place or secured in place for permanent use. When secured to a doorway local building codes may apply and the local building department should be consulted.
Most solid ramps are made of aluminum but there are a couple of fibre-glass models available on the market.
Depending on the manufacturer, the doorway solid wheelchair ramps will have weight capacities of 600 lbs. to 850 lbs.
For information about choosing the right wheelchair ramp visit our web page on choosing a wheelchair ramp.
Popular Solid Wheelchair Ramps Available from Wheelchair Vendors
Ameriglide Solid Wheelchair Ramp

| | |
| --- | --- |
| Material: | Aluminum |
| Surface: | Non-Slip |
| Available Lengths: | 1.5, 2, 3, 4 or 5 Feet |
| Usable Width: | 29.5" |
| Weight Capacity: | 600 Pounds (272 kgs.) |
| Weight: | 7.7 to 29.5 lbs. |
| Compatible Equipment: | Power & Manual Wheelchairs, Walkers and Scooters |





PVI Solid Wheelchair Ramp

Material:
Aluminum
Surface:
Non-Slip
Available Lengths:
3, 4 or 5 Feet
Usable Width:
30" or 36"
Weight Capacity:
600 Pounds (272 kgs.)
Weight:
15 to 25 lbs. (30" width)
18 to 30 lbs. (36" width)
Compatible Equipment:
Power & Manual Wheelchairs, Walkers and Scooters





EZ Access Pathway Wheelchair Ramp

| | |
| --- | --- |
| Material: | Aluminum |
| Surface: | Non-Slip |
| Available Lengths: | 4', 6', 8' or 10' |
| Usable Width: | 36" |
| Weight Capacity: | 850 Pounds (386 kgs.) |
| Weight (without hand rails): | 45, 60, 75 or 90 lbs. |
| Weight (with hand rails): | 70, 85, 105 or 130 lbs. |
| Overall width (without hand rails): | 37" |
| Overall width (with hand rails): | 40 1/4" |
| Compatible Equipment: | Power & Manual Wheelchairs, Walkers and Scooters |





EZ Access Pathway Lite Wheelchair Ramp

| | |
| --- | --- |
| Material: | Aluminum |
| Surface: | Non-Slip |
| Available Lengths: | 2, 3, 4, 5', 6', 7'or 8' |
| Weight: | 12, 18, 22, 28, 32, 37 or 42 lbs. |
| Usable Width: | 32" |
| Weight Capacity: | 600 Pounds (272 kgs.) |
| Compatible Equipment: | Power & Manual Wheelchairs, Walkers and Scooters |
| Usage Guidelines: | Curbs, 1 or 2 Steps, Vans or Porches |





Travel Ramp Fibreglass Wheelchair Ramp

| | |
| --- | --- |
| Material: | Fiberglass |
| Surface: | Non-Slip Stripping |
| Length: | 3', 4' and 5' |
| Usable Width: | 27" to 29" (dependent on length) |
| Weight: | 15, 20, or 25 lbs. |
| Weight Capacity: | 600 Pounds (272 kgs.) |
| Compatible Equipment: | Power & Manual Wheelchairs, Walkers and Scooters |
| Usage Guidelines: | Low Porches & Decks, Curbs, Steps, Thresholds etc. |