PVI Modular Wheelchair Ramp Systems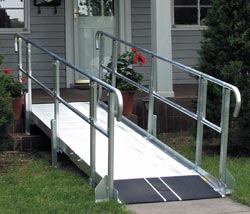 Designed to address the accessibility needs of the residential and light commercial market, the PVI Modular Ramp systems are an excellent choice when accessibility needs to extend beyond the scope of a portable ramp.
The PVI Modular ramp system assembles quickly and easily with common hand tools, comes standard with handrails on both sides and has optional gates and guard rails. This modular ramp system requires little or no site preparation.
Modular ramps are ordered to meet the requirements of the customer and can be configured to accommodate many different applications. When ordering a modular ramp system the dealer only orders the components needed to fit the customer's needs.
Modular ramp systems can be reconfigured if necessary and parts can be added at a later time should more length be required.
To meet most accessiblity and building codes in Canada and the ADA requirements in the U.S. a modular ramp shoud have at lease 12" of length for every 1" of rise. Although some people may argue that these are poratable ramps and not suject to building codes they are more accurately described as temporary and to be safe shoud meet building codes in your area. To find out what length you'd need for your ramp try our ramp length calculator.
Specifications
| | |
| --- | --- |
| Material: | Aluminum |
| Surface: | Non-Slip |
| Length: | As Required (minimum 4') |
| Useable Width: | 36" |
| Weight: | Dependent on Length |
| Weight Capacity: | 100 lbs (45 kgs) per Square Foot |
| Compatible Equipment: | Power & Manual Wheelchairs, Walkers and Scooters |
| Usage Guidelines: | Porches & Decks |
Features
For residential and commercial use.
Handrail extensions, guard rails and gates available.
Optional handrail designs available upon request.
All aluminum construction.
Little to no maintenance.
Can be easily expanded, reconfigured, or moved.
Permanent non-skid surface.
45 and 90 degree turns and switchbacks available.
100 pound per sq. ft. weight capacity
assembles quickly and easily with common hand tools.