PVI Multi-Fold Portable Wheelchair Ramp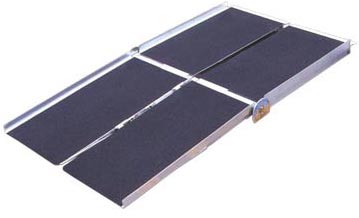 The PVI multifold portable wheelchair ramp offers the length required for wheelchairs or scooters to access vans and minivans with ease. The unique 3-fold design provides the compact storability and portability previously available only in smaller ramps.
This lightweight portable ramp is made of aluminum and features nonskid driving surface and built-in carrying handles.
The ramp separates into two lightweight sections for easier handling. The ramp unfolds to a 29" wide platform and features an 600-pound weight capacity up to 8' in length and a 500 lb capacity for the 10' & 12' lengths.
Specifications
Material:
Aluminum
Surface:
Non-Slip
Available Lengths:
5', 6', 7', 8', 10' or 12'
Width:
30"
Weight:
30, 35, 39, 52, 63 or 73 lbs.
Weight Capacity:
600 lbs up to 8' of length
500 lbs 10 & 12' lengths
Folded Size:
16"(W) x 9 1/2"(D) x Various (dependent on length)
Compatible Equipment:
Power & Manual Wheelchairs and Scooters
Useage Guidelines:
Curbs, 1 or 2 Steps, Vans or Porches
Features
Separates into two pieces for easy carrying
Patented center joint hinge eliminates pinch point and adds strength
Durable welded fabrication
Will not rust or corrode.
Durable non-skid driving surface.
Closure strap locks ramp panels together
Safety guide indicates if ramp is on a safe slope
Safety video and steel security pins included