PVI Threshold Ramps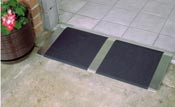 This small threshold ramp is specially designed for doorways.
Holes are drilled in each of the top corners for easy installation.
Lightweight and durable, this ramp has a load capacity of 600 pounds.
Specifications
Material:
Aluminum
Surface:
Non-Slip
Sizes:
8", 10", 12", 16" or 24" x 32" wide
16" or 24" x 36" wide
Weight:
3 to 15 lbs.
Weight Capacity:
600 Pounds (272 kgs.)
Compatible Equipment:
Power & Manual Wheelchairs, Walkers and Scooters
Useage Guidelines:
Standard Doorways, Sliding Doors etc.
Features
Installation holes in top corners.
Easy to use, handle and set up.
Designed specifically for doorways.
Will not rust or corrode.
Non-skid driving surface.