QRamp™ Wheelchair Ramp Systems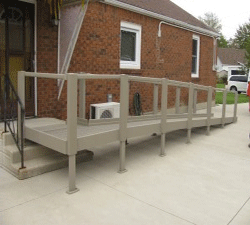 QRamp™ Modular Ramp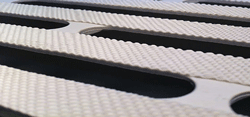 Integrated ThruFlow™ Decking
QRamps™ modular ramps are designed to be attractive, easy to assemble and user friendly. Their integrated ThruFlow™ decking is slotted to allow snow, rain and dirt to pass through and not accumulate on the ramp surface. This unique surface deters the creation of ice and reduces the snow buildup found on other types of ramps.
This ramp system consists of several modules that can be assembled easily and quickly. This module system allows for the reconfiguration and length changes by simply adding and removing modules as necessary.
QRamps™ modular ramps are suitable for use on both residential and commercial applications and meet all the applicable accessibility and building codes.
To meet most accessiblity and building codes in Canada and the ADA requirements in the U.S. a modular ramp shoud have at lease 12" of length for every 1" of rise. Although some people may argue that these are poratable ramps and not suject to building codes they are more accurately described as temporary and to be safe shoud meet building codes in your area. To find out what length you'd need for your ramp try our ramp length calculator.
Specifications
| | |
| --- | --- |
| Material: | Aluminum with polymer decking |
| Surface: | Integrated ThruFlow™ decking |
| Length: | As Required (minimum 4') |
| Useable Width: | 36" |
| Weight: | Dependent on Length |
| Weight Capacity: | 100 lbs (45 kgs) per sq. ft. |
| Compatible Equipment: | Power & Manual Wheelchairs, Walkers and Scooters |
| Usage Guidelines: | Porches & Decks |
Features
QRamp™ uses a grated decking surface called ThruFlow™ which allows water, snow, ice, dirt and small debris to fall through the walking surface keeping your ramp clean and clear.
Made of maintenance-free composite construction materials such as marine grade aluminum, polymer decking.
The durable outdoor powder coated paint is colour fast and will provide you with many years of beautiful, maintenance free use.
The non-slip surface is built into the decking for 360° slip resistance that is warranted for 12 years.
Most QRamp™ configurations are made with only four main modules, this means less confusion, simple configuration and re-configuration.
QRamp™ is the quickest and easiest modular ramp system to put together on the market today.
Simple yet elegant lines that are designed to blend and compliment your home unlike the common shiny silver ramps on the market today.
QRamp™ has integrated textures that protect the user from the temperature change that occurs to the surface while gripping the ramp.
Glow in the dark photo-luminescent strips on the interior side beams last up to 6 hours and help you safely enter or exit your home, school or business.
The 4½" curb height that you will not find anywhere else on the market ensures that your mobility device will not reach over the edge.