EZ-Access Rubber Wheelchair Ramp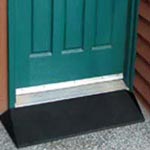 Ramp simply sits against the door sill (inside or outside) to provide a smooth ground-tosill transition and is especially practical for sliding glass doors because it does not interfere with the door track.
Made of 100% recycled tires, EZ-ACCESS Rubber Threshold ramps are slip-resistant and designed for years of continued use.
Available in 36" and 48" widths (for wider entrances, simply place 2 ramps side-by-side). Ramp can easily be trimmed for lower heights and widths to fit any entrance or threshold.
Ideal for indoor and outdoor use and, because it is fully portable, can easily be moved to another door or location if desired.
Specifications
Material:
Recycled Rubber
Surface:
Non-Slip
Sizes:
1 1/2" x 14 1/2" x 36" or
2 1/2" x 24" x 48"
Weight:
18 or 40 lbs.
Weight Capacity:
850 Pounds (386 kgs.)
Compatible Equipment:
Power & Manual Wheelchairs and Scooters
Usage Guidelines:
Standard Doorways, Sliding Doors etc.
Features
Made of 100% Recycled Tires
Optional rubber risers create 4.25" max. height.
Easy to use.
Can be cut to size
Will not rust or corrode.
Durable non-skid driving surface.