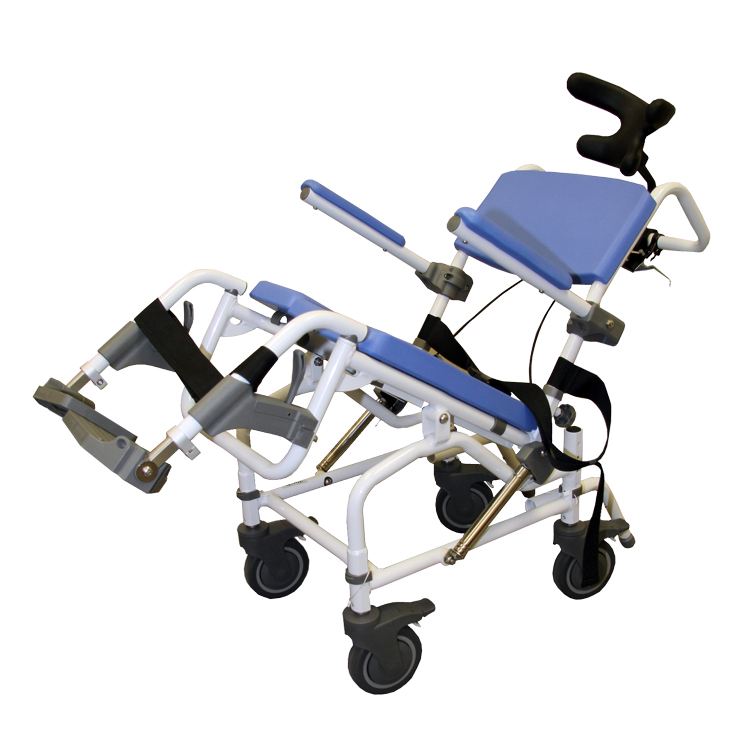 190 Rehab Commode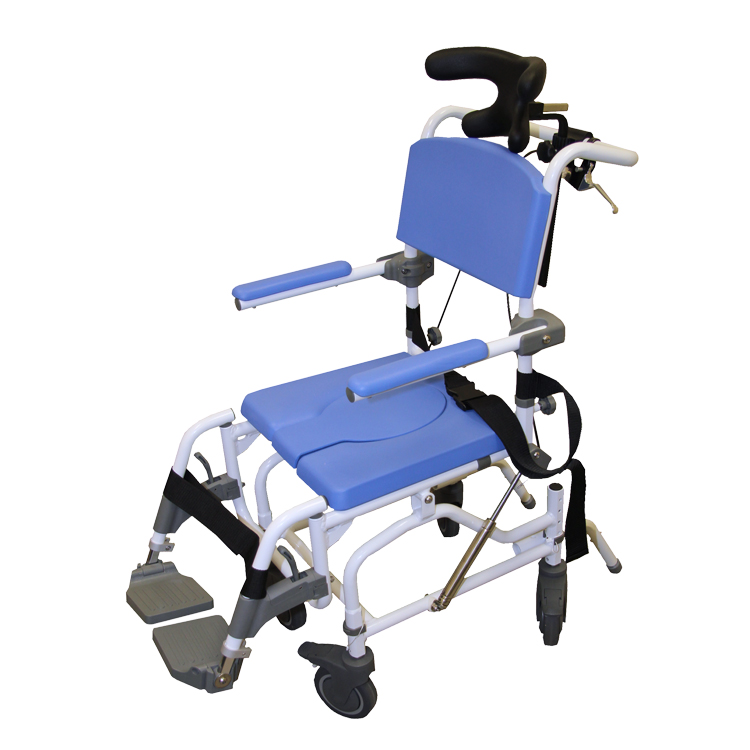 190 Rehab Commode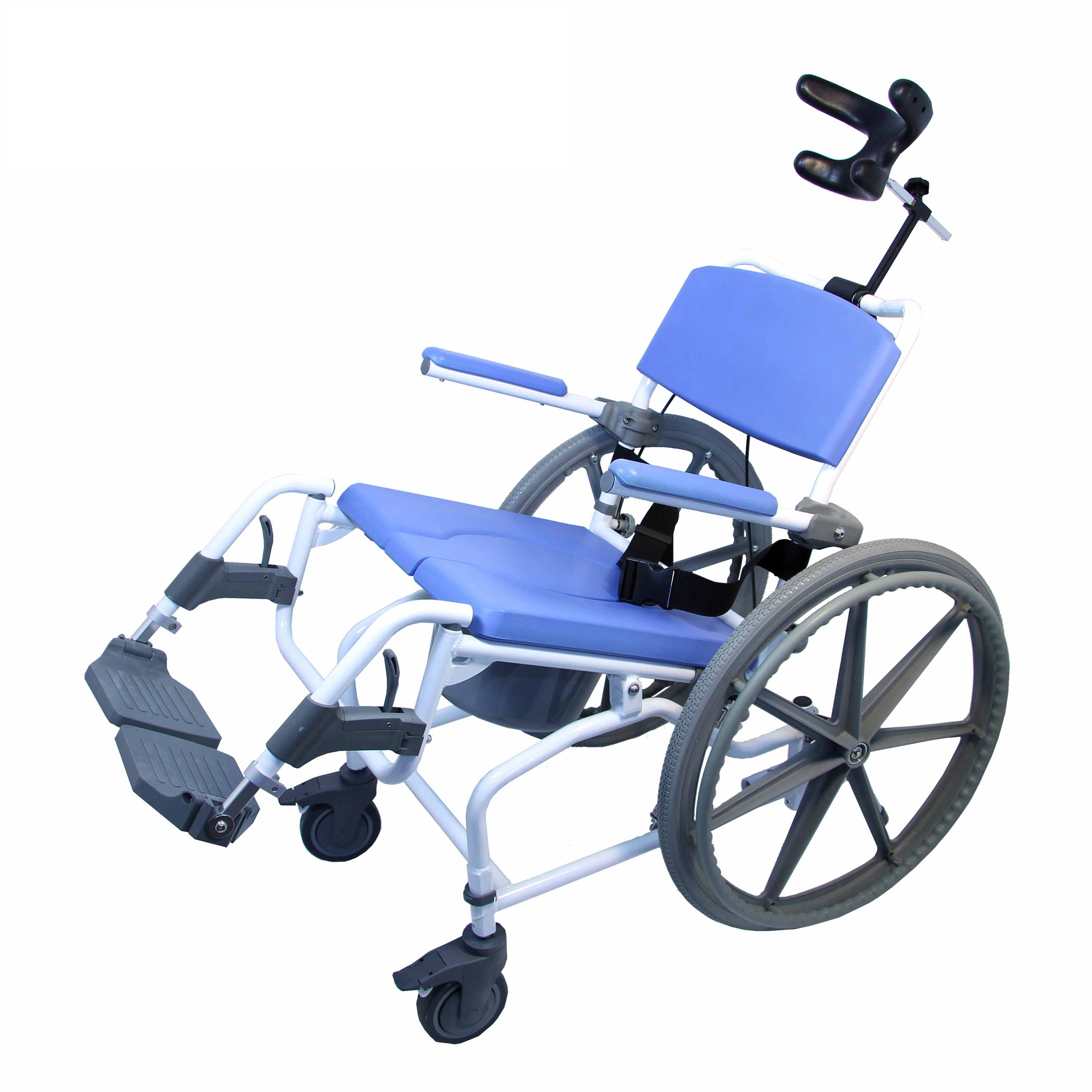 190 Tilt Rehab Commode with 24" Wheels
EZee Life Aluminum Tilt Rehab Commodes
EZee Life Aluminum Tilt Rehab Shower Commode chairs are available in 15" (model 155), 18" (model 190) and 20" (model 195) seat widths, offer open or closed front seats and 4 way seats depending on the model size. For those who are able to, and want to, propel themselves, optional rear wheels are available with push rims in 22" diameters for the 15" models and 24" diameter for the larger models.
These commode chairs come with four 5" casters, with locks for safety, to allow for transporting users but the larger wheels for self-propulsion have to be ordered as options and come with wheelchair styled brakes but still have the 5" locking casters on the front.
The seat cut-out provides access for hygiene and is constructed of a molded, sealed foam for comfort. The optional 4 Way Seat allows for access from either of the four sides and is available on the 18" models. The closed front seat option provides a hole or use over a toilet or a supplied bucket and includes a full seat cover that provides a seat surface without a hole.
The aluminum frame of these shower commode chairs are an attractive white color and resistant to rust. The EZee Life commodes are designed to be used in wet/damp environments and won't quickly deteriorate or rust.
Swing-away removable footrests are standard on all models and include adjustable height and angle footplates.
This Aluminum Shower Commode Chair is suitable for home or institutional use.
Features
Molded dense foam seat, back & arm rest pads
Commode hole insert on standard seat
Flip back arms
Locking swivel casters
Adjustable height swing away footrests
Composite flip up foot plates
Side release seat belt
Strong tubular aluminum frame
Adjustable removable anti-tippers
Adjustable headrest
Attendent controlled tilt mechanism
Specifications
Casters: 5" Swivel locking
Seat Widths: 15" (#155), 18" (#190) or 20" (#195)
Seat Depth: 15" (#155), 17" (#190, #195)
Seat Height*: 21", 22", 23" (adjustable)
Seat to Floor Clearance: 18", 19", 20"
Back height: 18"
Arm height: 11" from seat
Arm length: 13"
Footrests: Adjustable Length, Swing-away/Removable
Weight capacity: 286 lb. (#155), 300 lb (#190), 325 lb (#195)
Frame material: Aluminum
Weight: 32.5 lb. (14.8 kg) to 38 lb. (17.3 kg) Depending on Model
* For higher seat heights, casters with extended stems can bo ordered to add 2" to the seat height.
Downlaods
Warranty Information
| Part Name | Warranty Length |
| --- | --- |
| Frame & Components | 1 Year |
| Wear Items | Excluded |
Any alterations, misuse, abuse, or accidental damage voids this warranty. EZee Life™ reserves the right to replace or repair any part that has become defective.
The warranty does not extend to consequential costs resulting from the fault or defect of the product: freight and travel costs, loss of earnings, or other expenses that one may incur.
Warranty is valid for the original purchaser only and the original receipt must be presented before any warranty options are considered. Please also be prepared to provide the date of purchase and serial number.