Commode Cushions
Air Cushion for Commodes

Air Floatation Commode Cushion
All of the commodes featured above come with hard plastic seats which are okay to sit on for short periods of time.
Conventional padded toilet seats, which can be purchased from many retail stores, will fit onto many of the commodes available today.
For those who need more pressure relief while sitting on the commode than a conventional padded toilet seat can provide, this air cushion may be the answer.
When properly inflated, this cushion will provide the highest amount of pressure relief possible for a user on a commode. When under inflated, it will offer very little pressure relief and will be a waste of money. So, if someone is available who is willing and able to maintain the air pressure at the proper level in this product, it's a great product.
Gel Commode Pads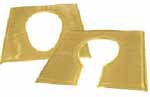 Polymer Gel Commode Pad
Gel commode pads provide pressure relief for commode users but don't require any maintenance such as maintaining the air pressure in air type commode pads. These pads can be cut and modified as needed and resealed.
Gel commode pads are about 1" thick and don't create the high seat height that an air cushion will, making it a little easier to transfer on and off the toilet for users who don't stand to transfer.