Wheeled Commodes
Wheeled Commode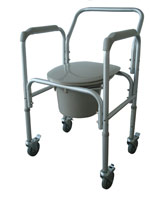 Wheeled Commode
Wheeled commodes are, as the name suggests, commodes with wheels. The front wheels on a wheeled commode should swivel and often all four wheels will swivel to ease pushing and steering by a caregiver. Wheeled commodes can be used to transfer a user from the bed or wheelchair to a roll-in shower or positioned over a toilet. While the pictured wheeled commode will work perfectly fine in situations where the floors are flat and hard, because of the small size of the wheels, pushing this model of wheeled commode on carpet, over thresholds to roll-in shower stalls or anywhere where the floor is not perfectly flat will be challenging.
Rehab Shower Commode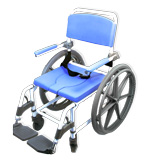 Rehab Shower Commode
Rehab shower commodes are the elite models of commodes. They normally feature drop arms, padded seats, removable buckets, footrests, backrests, swivel casters and/or large wheels which can be accessed by the user to self propel. Rehab shower commodes, with their larger wheels, are more usable in locations where there is carpeting, ceramic tiles or any other area where the floors aren't perfectly flat and hard. The rear drive wheels on a rehab shower commode can often be ordered with air tires in lace of the standard solid tire but I can't really see where air tire are much of an advantage on a commode. Most standard rehab shower commodes have seat widths of about 18" and weight capacities of around 250 lbs.
Tilt Rehab Shower Commode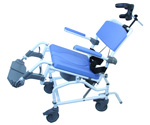 Tilting Rehab Shower Commode
Tilting rehab shower commodes have many of the same features as a regular rehab shower commode but these models tilt. Tilting can be an advantage for users who have difficulty sitting upright or require some pressure relief. The pictured model of tilting rehab shower commode comes standard with a head or neck rest, padded seat, 4 locking swivel casters, swing away footrests and flip up armrests. Although not shown on this picture, this model also has a pan which mounts under the sit for waste. People who require the features of a tilting rehab shower commode are not often able to self propel a wheelchair so the commode is not manufactured with large wheels.
Bariatric Rehab Shower Commodes

Bariatric Shower Commode
The bariatric rehab shower commode is basically the same as the standard rehab shower commode but available with wider seats and higher weight limitations. The pictured model has a 600 lb. weight capacity and a variety of seat widths including 20", 22", 24" and 26".