Ontario Assistive Devices Program (ADP)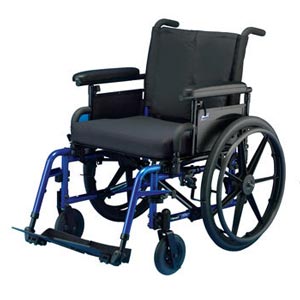 Invacare Patriot Wheelchair
The Ontario Ministry of Health has implemented this program to assist in the purchase of many types of medical equipment for Ontario residents with a valid Ontario Health Card.
The device categories are listed below:
Communication Devices
Diabetes Supplies
Enteral Feeding Supplies
Hearing Devices
Orthotic Devices
Ostomy Supplies
Pressure Modification Devices
Prosthetic Devices (Breast, Limb,Ocular, Maxillofacial)
Respiratory Devices
Visual Devices
Wheelchairs, Positioning and Ambulation Aids
For the purposes of this web site I'll only be detailing the program as it applies to Wheelchairs, Positioning and Ambulation Aids. For information on the other categories please call your local Home Health Care Dealer.
Qualification:
Anyone who is a resident of Ontario with a valid Ontario Heath Card is eligible to apply for funding through the ADP Program. This is a universal program and acceptance is not affected by financial situation other than extra funding allowed for some low income clients.
For a resident to qualify, the equipment must be required on a daily basis to provide basic purposeful mobility both inside and outside the home. There must also be a long term need (more than 6 months generally).
The products in this category covered include Manual and Power Wheelchairs (Not Batteries), Wheelchair Cushions, Wheelchair Back Supports, Wheelchair Accessories, Scooters, Walkers and Gait Trainers (Pediatric).
Coverage:
There are two levels of coverage. The standard coverage is 75% of the cost up to a set maximum on most of the products. For people on Provincial Assistance (ODSP, Ontario Works Program etc.) the coverage is 100% up to a set maximum. The pricing for mobility equipment is set by ADP and authorized vendors all charge the same amount for ADP approved equipment. If the client opts for options or extras that aren't approved by ADP the client will be responsible for the full cost of those items.
Access:
To access the ADP Program, an assessment by an ADP Authorizer is required. Authorizers are usually Occupational Therapists or Physio Therapists who have been approved by the Ministry of Health to conduct Assessments. ADP does not cover the fees charged by these assessors however if the client is a patient of a facility (Rehab Centre, Hospital etc.) there is a good likelihood the assessment will be done without a fee to the client.
Usually, trials are done until the suitable product or combination of products is found. At this point, the therapist will write a prescription and submit the application for funding to the Ministry of Health. Approval times for applications can vary from 4 weeks to as many as 12 weeks. Most equipment vendors will provide loaner equipment or the actual equipment prescribed while waiting for the funding approval if the client requires something to use while waiting for approval.