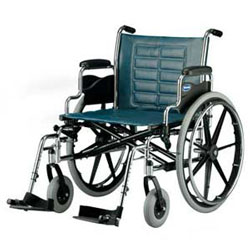 Invacare Tracer IV Heavy Duty Wheelchair
Heavy Duty Wheelchairs
Heavy duty wheelchairs are also often known as "bariatric" wheelchairs. Any home medical products that have high weight capacities, whether they be wheelchairs, commodes, beds or anything else are more commonly referred to as bariatric products in the recent years.
Standard or "off the shelf" heavy duty wheelchairs are wheelchairs which will have a weight capacity of somewhere over 350 lbs. Of course, should the need arise custom wheelchairs can be ordered in cases where even heavier weight capacities are required.
Heavy duty wheelchairs are made with stronger axles, heavier tubing, double cross braces, gusseted frames and reinforced upholstery to be able to handle the weights required.
Seat Widths and Depths
Seat widths for heavy duty wheelchairs will range from about 20" to about 30" depending on the model chosen.
Seat depths for heavy duty wheelchairs will range from about 18" to about 24" depending on the model chosen.
Seat Height
Seat heights on a heavy duty wheelchair range between 15" and 22" depending on the model chosen.
Back Height
The back height of heavy duty wheelchairs will be within a range of 16" to 26" but usually have some adjustability.
Frames, Weight & Capacities
Heavy duty wheelchairs are heavy due to their size and structure and most will fold from side to side although the really high weight capacity chairs are more likely to have solid frames.
The weight of the heavy duty wheelchair will be between 40 lbs. and 70 lbs. plus any seating accessories and options chosen and can quite easily approach 100 lbs. fully set up.
Standard wheelchairs have a standard weight capacity of 250 lbs. to 300 lbs. but heavy duty wheelchairs will have weight capacities from 350 lbs. to about 850 lbs.
Casters, Wheels and Tires
The rear wheels on this category of wheelchair are normally 24" with solid tires but air tires and air tires with solid inserts are available on some models. I don't recommend air tires on a heavy duty wheelchairs because they can become soft fairly easily making the wheelchair difficult to propel.
The front casters on heavy duty wheelchairs are almost always 8" with solid tires but optional casters on at least one model are 5" solid.
Axle Plates
Axle plates are not common on heavy duty wheelchairs but there is at least one model that offers them as an option.
Brakes
Brakes for heavy duty wheelchairs are invariably conventional push to lock or pull to lock with several models offering brake extensions as options.
Armrests
Armrests can be full length or desk length, adjustable height or fixed height but normally will be removable.
Footrests
Heavy duty wheelchairs usually offer either 60° conventional footrests or elevating legrests but there are a couple of models which offer 70° or 80° versions.
Pros
High weight capacity
Some models foldable
Cons
Can be Expensive ($1,000.00 - $8000.00)
Reduced availablity of options
Larger sizes too wide for conventional doorways
Difficult to propel