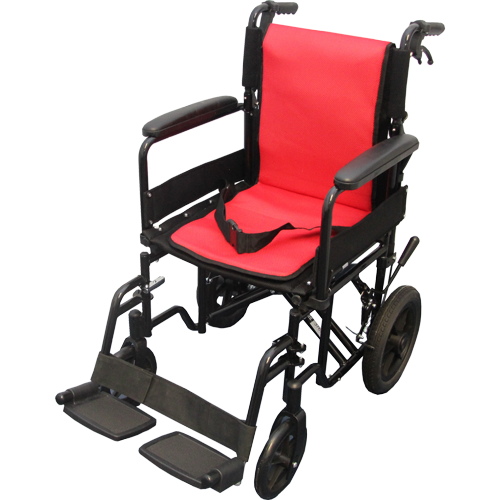 Featherlite Transport Wheelchair
Portable Transport Wheelchairs
Transport wheelchairs are the most basic of all the wheelchair categories. They are not intended for independent mobility and the user will have to have a caregiver or helper around to push the wheelchair. Their intended use is for assisted mobility on short trips where the chair will have to be folded and packed away in a car or van. Transport wheelchairs are lightweight for easy lifting but don't offer much in the way of comfort or options.
The following features can be generally applied to most transport wheelchairs but some differences will occur between models.
Frames, Weight & Capacities
Transport chair frames can be constructed of either steel or aluminum and have weights anywhere from 15 lbs. and 45 lbs. depending on the model. All transport chairs will fold from side to side and some have folding back the make transporting and storage easier. Most Transport chairs have weight capacity of 250 lbs. but the heavy duty models will hold up to about 450 lbs. Of course, a transport chair which will hold 450 lbs. will be a much more heavily constructed and will push the weight towards the 45 lb. weight.
Casters, Wheels and Tires
The most common wheel configuration for transport chairs is four 8" casters with solid tires. The front two casters will swivel to enable turning. On some models the rear two wheels may be 12" in diameter instead of 8" and have air tires insted of solid tires. The larger wheels will give a little bit softer ride and traverse rough terrain a little better.
Brakes
Normally there are two wheel locks on the back wheels of a transport chair but they are inaccessible by the person riding in the chair but a few of the more expensive models have bicycle style brakes mounted on the push handles. These bicycle style brakes can be more functional in that they can be applied easily while negotiating a slope or ramp to slow the wheelchair down.
Armrests
Transport wheelchairs can have full or desk length arms and they may or may not be removable but you probably won't get an option. Transport chairs are normally made with one style of arm and if there is a specific style you'd like, then you'll probably have to choose a chair based on the arm style you want.
Footrests
Most transport chairs have swingaway and removable footrests these days but there are a couple of models with permanently attached footrests and a couple of models that offer elevating legrests as an option.