Power Wheelchair Features and Components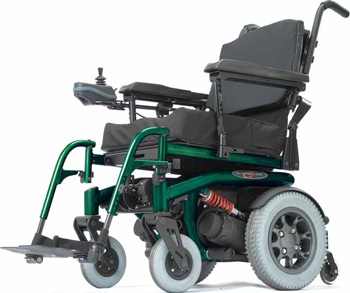 Quickie 646 Wheelchair
Not too terribly long ago a power wheelchair was basically a manual wheelchair that had a pair of motors added to it. Today, most power wheelchairs bear little resemblance to a manual wheelchair.
The seating principles and components of a power wheelchair are quite similar to that of a manual wheelchair with a seat frame of some sort , arms, footrests, cushion, back support and associated accessories. Comfort and posture of the user is determined first, and secondly the propulsion method is chosen. For those who can't propel a manual wheelchair functionally, a power chair is prescribed.
There are a variety of wheel configurations, drive controls and electronics packages available for today's power wheelchairs. When purchasing a power chair it's important that the vendor you choose is able to properly guide you through these decisions.
Purchasing a power wheelchair is not something most people want to do very often, so it's important to get the right one the first time. There has to be a clear understanding by both the user and the vendor as to the terrain the chair will be used in, any physical limitations the user may have and any future limitations that can be expected. Everyone involved in the decision making process has to consider the needs of today and the expected needs of tomorrow in order to choose the best power wheelchair for the user.
I've provided a brief overview of the various components and their features which is in no way complete, but should provide a basic understanding of power wheelchairs.
Features unique to power wheelchairs