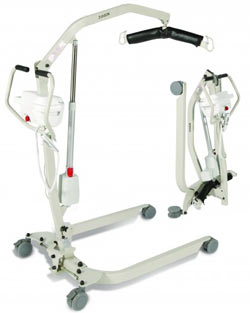 BHM Junior Folding Patient Lift
Note: BHM Medical seems to have disappeared. Their website url, www.bhm-medical.com, now redirects to www.arjohuntleigh.com's ceiling lift page. I'm assuming that BHM Has been taken over by Arjo Huntleigh. People looking for information on BHM products should probably contact Arjo Huntleigh.
I don't know whether this product is still available (I see some dealers still advertising them). I'm leaving the page online as a reference for anyone who might need this information.
The BHM Junior folding patient lift is a power floor lift for lifting, repositioning and transferring patients who weigh up to 350lbs. in weight.
The Junior foldable lift handles all conventional lifting situations then compacts for storage under the bed or behind a door. The Junior foldable lift is the ideal combination of function and convenience.
This patient lift has a rechargeable removable battery pack that will lift up to 100 lifts on a charge. Spare battery packs can be obtained to act as replacement battery packs in situations where the lift can't be left unused for the period of time it takes to recharge it.
The wheeled base's front legs will widen or narrow as needed to maneuver the base around furniture and other obstacles during transfers.
Features:
Collapses for easy storage
Soft start and stop movement
Dual Controls
Emergency shut off
Beige powder coat finish
Manual emergency lowering device
Rechargeable and removable battery pack
Specifications:
Weight Capacity: 350 lbs.
Up to 100 lifts per charge
Visual low battery warning gauge
Steel construction
Product Weight: 88lbs./37kgs.