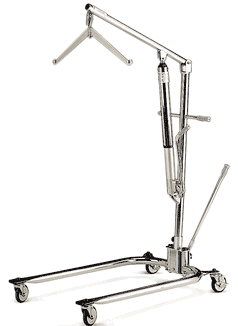 Hoyer Classic Patient Lift
The Hoyer C-HLA is a durable patient lift from a company with a 50-year history of dependable patient transfers.
It features a long-lasting chrome finish and a 400 lb. weight capacity. This lift also features 4" casters that are offset to increase stability during transfers. The Hoyer C-HLA is meant for use with any Hoyer 2-point sling.
Specifications:
Product Weight: 80 lbs.
Product Width: Min/Max 24/39.5 in
Product Length/Depth: 41 in.
Product Weight Capacity: 400lbs.
Base Clearance: 5.5 in.
Mast Height: 52 in.
Range of Boom (Measured from top center of cradle to floor): 27 in. - 73 in.
Sling Seat Height: 0 - 35 in.
Tubing Diameter: 2 in. Round
Finish: Chrome